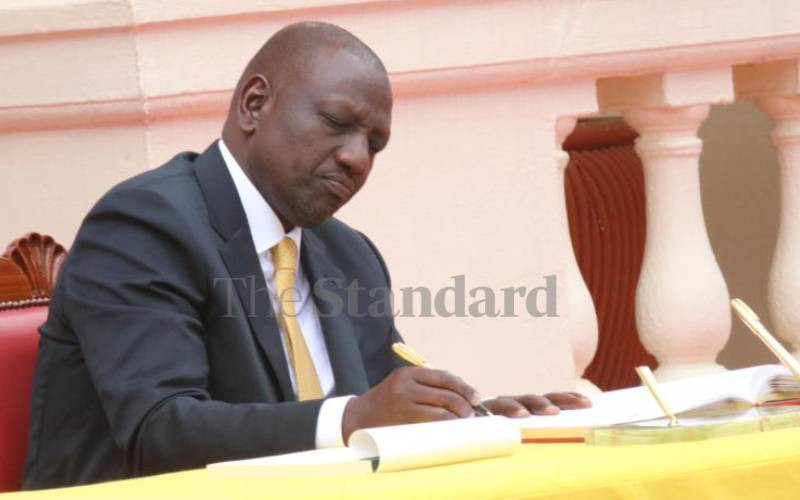 President William Ruto plans to revise former President Uhuru Kenyatta's Sh3.9 trillion budget for last year, saying that realising the amount is a tall order.
He said the government must live within its means, insisting that since budget-making is always aligned with what is collected, the budget must also be realistic.
"I agree we must cut our coat according to our size," said Ruto while reacting to Minority Leader Opiyo Wandayi, who had criticized the government for burdening Kenyans with taxes.
Ruto said this at Pride Inn Paradise beach resort in Mombasa during the National Assembly post-election seminar 2023 for MPs. The lawmakers are in Mombasa for the second week for a series of meetings to sensitise them about their role in the 13th Parliament.
Wandayi said there was no need to present a Sh3.9 trillion budget to Kenyans while the country was capable of collecting only Sh1.9 trillion.
Ruto concurred with Wandayi over the big budget and advised the MPs to help the executive in scaling down expenditures by not financing some items despite being budgeted for.
"We must minimise expenditure on non-essential things and be realistic and understanding to work with what is available," said Ruto.
The president admitted Kenyans were undergoing a difficult situation following drought and high cost of living, but stressed that taxes must be paid.
"Good people who are used to exempting themselves from paying must pay tax. Their days are over. They will pay the tax. Nobody is more equal than the other in this country," said Ruto.
He said to address the high cost of living and economic challenges they inherited from the previous regime, his government had lined up assistance to 500 farmers to enable them to produce more food.
The president was accompanied by National Assembly Speaker Moses Wateng'ula, Leader of Majority Kimani Inchung'wah and Prime Cabinet Secretary Musalia Mudavadi.
The president told MPs to be bold and keep Judiciary off parliamentary business, saying Parliament was where MPs had the best court to deal with issues.
He said there are activists who are fond of taking matters meant for MPs to court, and this should stop.
Ruto was reacting to a court decision rendering the National Government Constituency Development Fund illegal.
He said NG-CDF was a lifeline for many Kenyans and anybody interfering with its functions had no idea what was happening at the grassroots.
The president asked the MPs to exercise their freedom of expression and offer effective representation to their constituents.
Related Topics