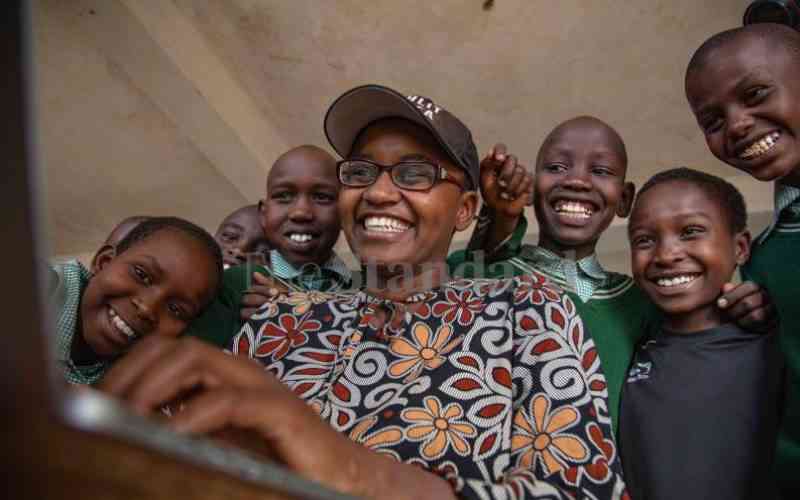 Nelly Cheboi 29, from Mogotio in Baringo County, is the CNN Hero of the Year award winner.
Cheboi was nominated in November, among 10 other nominees to contest the CNN hero of 2022.
Other nominees were Carie Broecker, Richard Casper from Nashville, Nora El-Khouri Spencer, Tyrique Glasgow, Teresa Gray, Meymuna Hussein, Debra Vines, and Bobby Wilson.
Cheboi of Techlit Africa, a non-profitable company in Kenya attributed her success to her mother who endured all the suffering in making sure that her children get the best education despite poverty.
When she was called onto the stage, Ms Cheboi had to seek permission to be accompanied by her mother who had flown to New York for the event.
Together they sang a song which she said she used to sing to her mother after she saw what she was going through in making sure that she provided for them to attain their education and get meals.
"Mkono wangu mdogo, haiwezi kufanya kazi, nikiwa mkubwa wee nitakusaidia na utapumzika, (loosely translated my hands are little, can't help you now but when I grow up I will support you and you will have time to rest)," she sang with her mother at the stage as they hold each other hands. The song reminded them of her days back in the village, then a young girl when they would hold hands and sing together.
"My mother took care of four girls, and she became the community's laughing stock as each time she was told not to bother or strain taking care of us and that she was lucky she didn't have a boy. Despite the discouragements she kept pushing in making sure that she saw us through our education," Cheboi said.
Her boyfriend Tyler, a co-founder of Techlit Africa, she said has dedicated his time and resources and even relocated with her to Mogotio in making sure that her dreams come true.
When asked if she expected the win, Cheboi noted that her only achievement was seeing her mother enjoying the streets of New York but never expected to win.
"I never imagined winning, to me I was just excited that my mother had travelled and experienced the life of New York, my mother reached grade six she can barely read and write, even as we were at the event she never knew what was happening with culture shock among others," she added.
She explained that her mother at first thought it was her graduation until they were on the stage singing.
Her dress, she said, was the Zawadi line, which she chose to promote as a gesture of gratitude after the Zawadi Foundation took her through her university education in the USA.
"I competed with big names, great people, what was on my mind was that the event was coming to an end and I was thinking about how I will market my company, get fundraising, not keen that I would be the winner, I thank my family, the love of my life Tailor and everyone who believed in me," Cheboi added.
Cheboi grew up in poverty and they would sleep on empty stomachs which motivated her to work extra hard.
"We didn't have much when growing up, but my mother selflessly dedicated everything by selling along the roadside in order to put food on the table," she added.
They lived in a temporary structure where when it rains they would shift to a clear space to avoid being rained on.
After completing her secondary education, she secured a full scholarship from the Zawadi Africa Foundation to study computer science at Augustana College in Illinois, graduating in 2015.
She worked as a business analyst and lead software engineer for two US firms - New World Van Lines and User-Hero but resigned and moved back to her village in 2019 with the aim of empowering her community borrowing from her experience in the US.
Cheboi decided to buy a plot and build a school, which she named Zawadi Yetu, where children would study more about technology with parents only paying a small fee monthly to sustain operations.
"I have faced a lot of criticism which has made me grow because I understand them, poverty is bad, it affects the mindset," she said.
Her dream is to reach over 100 schools in rural Kenya in making sure that they get to acquire computer skills which she failed to get until when in university.
Cheboi will receive Sh12.3 million which she said will help her in reaching the 100 schools in rural areas in Kenya.
She will receive another Sh1.2 million and will be named as Elevate Prize winner which will be awarded Sh37 Million and an additional Sh24.6 million.
Cheboi was listed in the Forbes 30 under 30 list in April and in October selected to present her journey at United Nations (UN) on resilience.
Related Topics