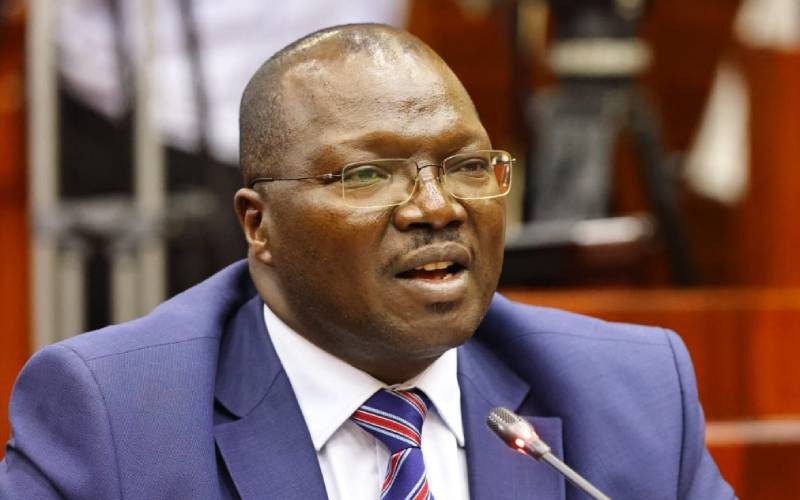 Cooperatives Cabinet Secretary (CS) nominee Simon Chelugui said on Saturday that his wealth grew by Sh197 million between 2018 and 2022 as a result of the appreciation in value of his assets.
Kathiani MP Robert Mbui, a member of the National Assembly's Committee on Appointments, tasked Chelugui to explain why his net worth rose from Sh796 million that he declared on February 13, 2018 to the Sh993 million that he disclosed on Saturday, October 22, 2022.
In 2018, Chelugui was being vetted by MPs for the position of Water and Sanitation Cabinet Secretary after President Uhuru Kenyatta, now retired, nominated him to the Cabinet.
Chelugui, who is the only member of Uhuru's Cabinet who has been retained in the same capacity by President William Ruto, said the assets that he declared in 2018 are the same ones he has declared in 2022.
"A majority of these assets have appreciated in value. They include land and buildings whose net value has gone up over the last five or so years," Chelugui told the Committee on Appointments chaired by National Assembly Speaker Moses Wetangula.
To justify his point, Chelugui gave an example of the appreciation in the value of land in Baringo, his home county.
"Some years back, an acre of land in Mogotio would go for about Sh100,000. Today, the area has a tarmac road that has led to the value of an acre of land appreciating by more than Sh200,000 to retail at Sh350,000," he said.
The CS designate said his total wealth, estimated at Sh993 million currently, was acquired largely through rental income, dairy processing and farming.
He also said that he was tax compliant.
"I have several houses, including my residence and rental apartments in Nairobi. I also keep cows for dairy and beef," he said.
In former President Uhuru Kenyatta's government, Chelugui served in two different ministries. They are Water and Sanitation (2018-2020) and Labour and Social Protection (2020-2022).
Chelugui, who is destined for the newly created Cooperatives ministry, said Kenya has a total of 361 SACCOs.
He also spoke about how President Ruto's pet project Hustlers Fund will be rolled out, saying borrowers will organise themselves into formal groups and SACCOs and acquire credit at an interest rate below 10 per cent.
"Hustlers Fund is not free money from the government," said Chelugui.
"A hustler is not a poor man; a hustler is a hardworking Kenyan who toils, wakes up very early in the morning, let's say by 4am, to buy wares for sale. A hustler desires to have a better life," added Chelugui.
Related Topics