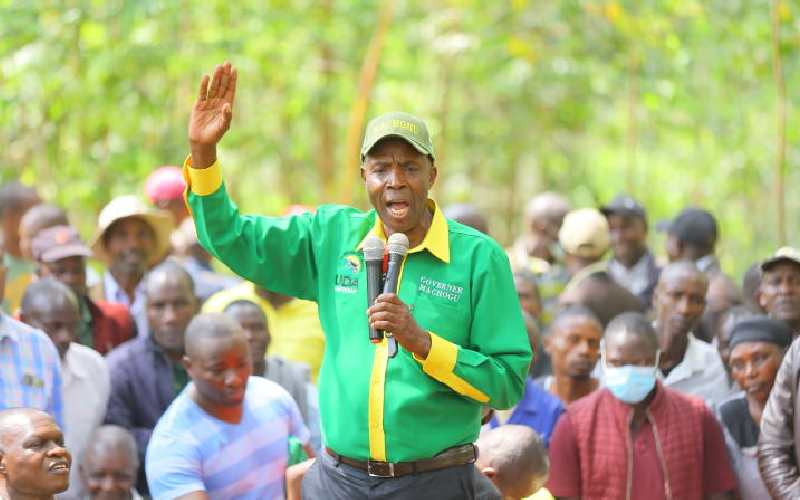 After suffering one the most humiliating defeats, Kanu, the party which Kenyans had been told would rule for 100 years was thrust into the limelight by reports that it had reneged on its promises to the people of Kipipiri Constituency, Nyandarua District.
During the campaigns in 1995 to replace area MP Lavan Muchemi who had died, Kanu's Secretary General Joseph Kamotho had vowed to mobilise what he called Baghdad girls to counter Baghdad boys who had been deployed by the joint opposition under the command of leader of Mwai Kibaki and the then budding opposition leader Raila Odinga.
After the dust had settled and Kanu's candidate, Chris Maina was defeated by Mwangi Githiomi to become the new Kipipiri MP, President Daniel Moi decided to visit the area.
The president was coming to Nyandarua against a backdrop of grumblings that the government had removed electric posts after abandoning its plans of extending electricity to the area to teach the voters a lesson.
On the material day, Nyandarua District Commissioner Ezekiel Machogu led a team of provincial administrators to Olkalou at a junction where the president was expected to come from. He was joined by his boss, deputy Provincial Commissioner Peter Ndemo and other security honchos.
The district Kanu branch team was also present led by Joseph Kinyiriria. Curiously one of the top officials, Josiah Kimemia was absent. Kinyiriria who had just ousted Kimemia as Kanu chairman was happy that his rival was not there and hoped to use this to discredit him.
Although the reception team had arrived at Kapteni before 9am, the members started becoming jittery when there was no sign of the president. Since there were no mobile phones then, there was no way Machogu and his team could ascertain whether the trip was still on.
It was during this uneasy wait that the DC's bodyguard overheard a matatu tout musing why the entourage was still hanging about by the roadside and yet the visitors were already in Kipipri.
When the DC was informed, he ordered his men to verify whether what the tout was saying was true.
It later turned out that the tout was right as Kimemia had cleverly diverted the presidential entourage via Langanga just a few kilometers from Gilgil and then to Miharati without going through Kapteni.
It was spectacle to behold as Machogu and Ndeno arrived at the meeting to find the president seated. He had been welcomed by the area chief and newly elected opposition MP.
Related Topics