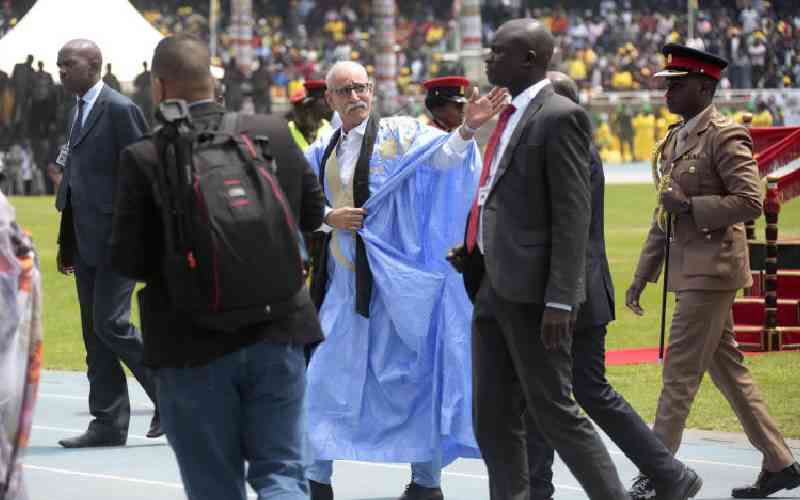 For millions of maize, tea, coffee, sugarcane and potato farmers, the diplomatic tiff between Morocco and Algeria over Sahrawi Arab Democratic Republic (SADR) was a far removed matter. It seemed of little concern.
But unknown to them was that the row between Morocco and Algeria over the latter's control of SADR is at the heart of a crisis that could determine the cost of food for more than 50 million Kenyans.
The row came to the fore when President William Ruto acknowledged the presence of SADR President Brahim Ghali during his swearing-in at Kasarani, Nairobi.
But on the following day after receiving a congratulatory message from King Mohammed of Morocco at State House, the President retreated and announced on Twitter that Kenya would no longer recognise the SADR, a section of Western Sahara that has been contested by Morocco since 1975.
"Kenya rescinds its recognition of the SADR and initiates steps to wind down the entity's presence in the country," Dr Ruto said after a meeting with Nasser Bourita, Morocco's Foreign Minister. Ruto said his administration would enhance its relations with Morocco in trade, agriculture, health, tourism and energy, among others. The tweet was later deleted. Rabat sees the vast stretch of desert, a former Spanish colony with rich phosphate resources and access to lucrative Atlantic fishing waters, as an integral part of Morocco's territory.
Polisario Front separatists took up arms in the 1970s and have continued to demand an independence referendum on the basis of a 1991 deal that included a ceasefire. It is a Sahrawi nationalist liberation movement claiming Western Sahara. The territory is led by the Polisario Front exiled in neighbouring Algeria.
Morocco's hold on the Sahrawi state is backed by many countries like the United States, Israel, and the Arab league's countries including Egypt, Bahrain, Comoros, Djibouti, Iraq, Jordon, Kuwait, Lebanon, Libya, Mauritania, Oman, Qatar, Saudi Arabia, Tunisia, United Arab Emirates, and Yemen. The diplomatic tiff has a bearing on the agriculture sector and puts Kenya in a precarious situation owing to the strategic position of Morocco as the world's biggest producer of phosphate-based fertiliser.
Kenya's imports
According to United Nations COMTRADE database on international trade, Kenya's imports of fertilisers were at Sh42.6 billion (US$355.45 Million) in 2021. Globally, market for fertilisers was Sh22.8 trillion ($190 billion) in 2020.
Currently, Morocco is among the world's top four fertiliser exporters which include Russia, China and Canada but remains the leading phosphate-based fertiliser manufacturer, making it an obvious strategic business partner for Kenya. The North African country has a comparative advantage in production of phosphorus fertilisers given that it has 70 per cent of the world's phosphate rock reserves, which is used in production of phosphorus. Notably, most plant life and all food crops require the element phosphorus to grow and this makes Morocco an unavoidable partner in President Ruto's government. On Thursday, Deputy President Rigathi Gachagua flagged off the 1.4 million bags of subsidised fertiliser to help farmers during the short rains expected next month.
"Our administration is focused on increasing agricultural productivity which will eventually lead to increased supply and eventually lower food prices due to forces of supply and demand," said Gachagua.
Subsidised fertiliser
The government released Sh3.5 billion to acquire subsidised fertiliser, which would retail at Sh3,500 for a 50 kg bag, down from Sh6,500.
With the Russian invasion of Ukraine, Morocco becomes a critical supplier of fertiliser across the world together with China and Canada thus making it a nexus to the global food supply chains. According to statistics from Morocco government, the country through its state-owned Office Chérifien des Phosphates (OCP) produces about 12 million tonnes per year but plans to increase production to 20 million tonnes putting an additional 8.2 million tonnes of phosphorus fertiliser by 2026.
Former Agriculture Cabinet Secretary and Laikipia East MP Mwangi Kiunjuri told The Saturday Standard that Morocco is a key partner that must be kept close as long as Kenya remains an agricultural country.
"Morocco is a key player in the production of food and as a country, we must retain a good relationship with it for the sake of our agriculture," he said.
An incident in 2018 that could give a glimpse of Morocco's strategic position as a bilateral partner to Kenya is a glitch on fertiliser import that immediately pushed up prices of the essential commodity. In June 2018, Kenya Bureau of Standards officials, including Managing Director Charles Ongwae and nine others, were arrested over poor quality standardisation marks and fake fertilisers.
Ongwae, director of quality control Erick Kiptoo, Inspection Manager at the Kilindini Port Peter Kinyanjui, Health officer Erick Kariuki and Coast Manager Pole Mwangemi were on the spot over Sh300 million fertiliser alleged to contain mercury.
Also arrested were three OCP Kenya directors over 5.846 million kilogrammes of substandard compound fertiliser. On hearing that the fertiliser allegedly had mercury, OCP Morocco took samples of the same and they all tested negative.
Here in Kenya, an independent firm, Kenas, was hired to test the fertiliser again and it detected no mercury, while sulfur was 6.38 per cent and nitrogen was 18.8 percent.
An officer at the Ministry of Agriculture said during the one year it took to undertake investigations, a group of fertiliser dealers raked in close to Sh50 billion by doubling the prices of fertiliser.
"A group of people quickly off-loaded millions of bags which seemed to have been docked at the high seas awaiting the government directive. Because of the stage-managed fertiliser crisis, the prices doubled and some senior people pocketed billions," said the official.
Related Topics