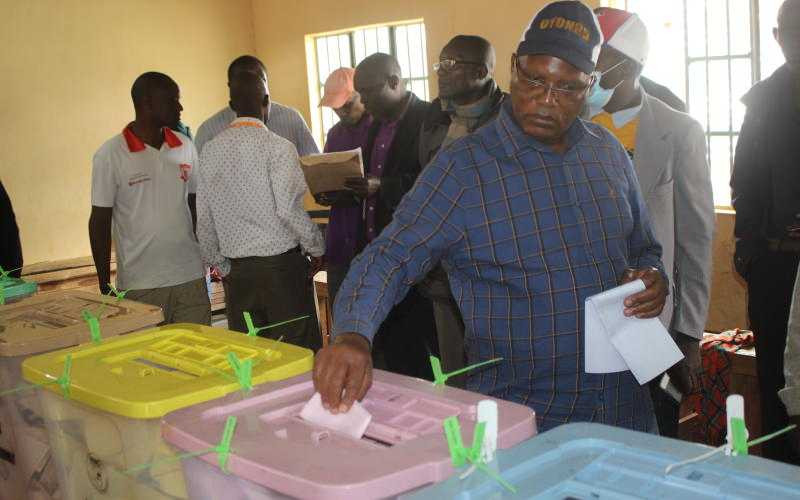 The Independent Electoral and Boundaries Commission (IEBC) has raised concern over low voter turnout across the country and in the diaspora.
Speaking in Nyeri, IEBC Commissioner Francis Wanderi said while voting had not witnessed any major hitches in Central, low voter turnout was a serious concern in the region.
"I have visited several polling centres in Nyeri Town constituency and as of 12pm, the highest is at Nyeri Town Health Centre and Muringato Primary School with at least 50 per cent of registered voters turning up," he said.
Most polling centres had registered less than 30 per cent voter turnout.
"If you fail to come out to vote then the will of the people will be exercised by others," he said at the White Rhino Hotel in Nyeri town.
While the IEBC had registered more than 22 million voters, he said, a turnout of only 22 per cent countrywide as of 3pm was worrying.
Mr Wanderi, who was accompanied by Nyeri County Returning Officer Anastacia Nduku, said some of the reasons for the trend were poor weather and voter apathy.
"The difference between political campaign rallies and the voter turnout is a very clear contrast," he said.
A spot check around the county showed few voters had turned up at polling centres in the early hours.
By 9am at the Karundas Primary School Polling Station 2, only 65 of the 468 registered voters had cast their ballots, according to presiding officer Isabel Muiga. Karundas Secondary Polling Station 1 had 100 voters out of 436 who had cast their votes by 9.40am.
Nyeri Municipal Yard Polling Station had some of the best turnouts in the county. By around 11.34am, 200 out of 634 voters had cast their votes at stream 2, according to the presiding officer Rose Mugereki. Polling Station 03 had 149 out of 633 having cast their ballots.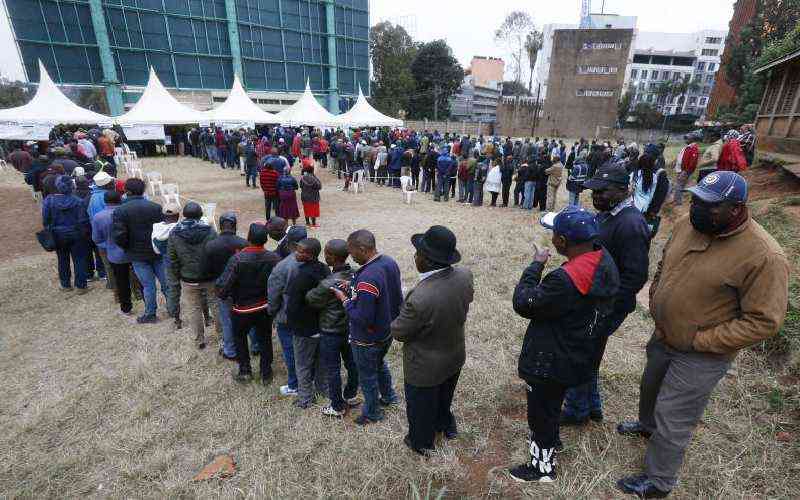 In Muranga County, a low turnout characterised the General Election as it was a walk-in and walk-out scenario for many voters.
At the Municipal Social Hall, one of the most populated polling stations, there was a small crowd when voting started compared to figures registered in 2017.
In the polling centres, there were many agents of political parties, candidates and observers accredited by IEBC.
There was a technical hitch at Ndikwe Gaturi and St Mary's polling stations.
At Gitui, agents were locked out and were first allowed in voting rooms in shifts, but the issue was later sorted.
At St Mary's, well-wishers assisted the sick and the disabled to access voting stations.
At Ndikwe Polling Centre, Alice Wambui, 102, was among tens of voters who pitched camp to vote. She was escorted by her granddaughter Millicent Muthoni.
Senator Irungu Kang'ata, who voted at the Municipal Social Hall, said the turnout was low in the morning after some of the electronic devices failed.
"We are now urging our voters to come out and cast their votes," said the governor candidate.
At the centre, 308 voters out of 590 registered voters had cast their ballots by 2.30pm.
In Meru County, long queues of voters were witnessed in some polling stations, while a majority of stations had average turnout.
DELAYED VOTING
At the KTDA Kathungutho Tea Buying Centre in South Imenti Constituency, Presiding Officer George Mawira revealed that less than half the total registered voters had cast their ballots by 2pm.
Mr Mawira said the centre, which had 503 registered voters, had seen 205 vote by 2pm.
Speaking at the centre, Imenti South MP candidate Shadrack Mwiti expressed satisfaction with how the IEBC had conducted the exercise.
"We appreciate what the IEBC has done. The turnout is good and we have seen a very smooth, speedy election," said Mr Mwiti.
In Isiolo County, voters were queuing as early as 5am, waiting to cast their ballots in their respective polling stations.
Some of the areas that experienced average voter turnout included Isiolo Boys High School, Wabera and St Kizito polling stations.
In Merti Sub-County in Isiolo South, election materials arrived at about 9.30am despite locals having turned out by 5.30am.
County Returning Officer Samuel Seki attributed the delay to the region being far-flung.
He, however, said there was no cause for alarm as they would compensate for time lost.
By 2pm, most polling centres had registered between 29 to 31 per cent voter turnout, with queues piling up due to delay and the sluggish pace of voter identification.
In Mombasa, police arrested UDA's Mvita parliamentary candidate Omar Shallo and his Tudor ward counterpart Samiri Bhallo after chaos broke out at a polling station.
The two, accompanied by their supporters, stormed Merry Cliff polling station at Tudor to protest an alleged plot to rig the election in favour of their competitors.
"I will not allow the process to continue if leaders will be imposed on the people of Mombasa through corrupt means," said Shallo at Makupa Police Station where he was held.
Shallo claimed that Independent Electoral and Boundaries Commission (IEBC) clerks were issuing more than one ballot paper for the MP and Member of County Assembly (MCA) seats. We could not independently verify this allegation.
County IEBC Manager Swalha Yusuf said they will investigate the allegation, adding that calm had been restored in the affected polling stations.
County Police Commander Stephen Matu said Shallo, Bhallo and two agents were arrested for storming the polling station.
"They are being held at Makupa Police Station, awaiting completion of investigations before they are arraigned in court tomorrow (today)," said Matu.
UDA governor candidate Hassan Omar, former Nairobi governor Mike Sonko and Kisauni MP Ali Mbogo said they will not accept the results for the Mvita parliamentary race from Merry Cliff polling station if the counterfoil papers don't tally with the ballot papers.
Sonko and Omar spoke while bailing out Shallo and Bhallo.
"Our agents should not accept any results if the counterfoil is not tallying with the ballot papers. They are stealing votes by issuing double ballot papers to our opponents," said Omar.
At Jomvu, a vehicle belonging to area MP Badi Twalib's wife was stoned and damaged by unknown people. No one was injured.
(Reports by Wainaina Ndung'u, Phares Mutembei, Lydiah Nyawira, Ndungu Gachane, Boniface Gikandi and Benard Sanga)
Related Topics