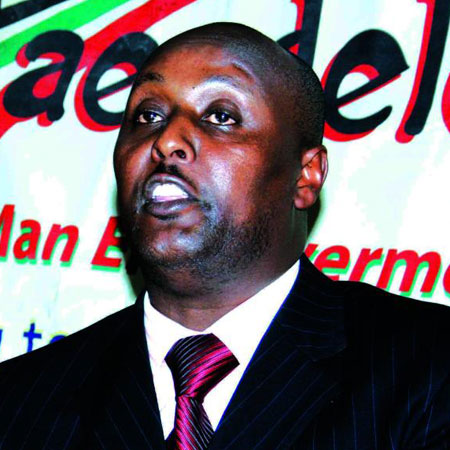 Men's rights activist, Nderitu Njoka is involved in a big fight with a local church that has refused to baptise his seven-month-old baby boy.
Nderitu wanted his son to be baptised, Jesus Njoka Njoka, but the Presbyterian Church of East Africa in Nyeri declined his requests.
The Maenedeleo Ya Wanaume chairman also claims the hospital where his son was born refused to indicate the name in his son's birth certificate but he did not report the matter to the management. Instead he decided to write the name himself, the controversial defender on men's rights said.
"I was very disappointed when the hospital declined and how the nurses treated me, but I did not reveal the ordeal to the management fearing to tarnish their name, yet I can write the name in my son's birth certificate," he told The Nairobian.
"When I took the child to be baptised in church, they told me I am insane. I am still shocked why the clergymen refused."
The rights activist said he just wanted to prove his deeply rooted Christian faith by naming his son 'Jesus'. In a letter addressed to National Council Churches of Kenya, also copied to The Nairobian, Njoka says his family members have ceased attending the PCEA in Muruguru after the ordeal.
"After all, the name is common in Portugal, Spain, and Mexico which are God fearing. My call is to Christians to start naming their sons Jesus since by doing this they will be preaching gospel of Jesus Christ to the world without hypocrisy," the letter says.
However, the church holds a different view.
"According to the views I have received from my fellow clergy over the matter, they all concur that going by the history of the Church, no one has ever come up with such a queer request. One of our Church's clauses further gives such a minister (who refuses to baptise) a leeway to reject to baptise someone Jesus," a parish reverend who we cannot name because he is not authorised to comment on behalf of PCEA leadership told The Nairobian.
NCCK communications and public relations office however said ," That matter has nothing to do we us. PCEA should handle the matter. Our mandate is to giving Biblical directions and not interfering with church activities."
Njoka made headlines recently when he offered to give free legal aid and counsel American hip hop artiste Jay Z who was attacked by his sister-in-law, R&B singer Solange Knowles.
Fans of Jay-Z and his wife Beyonce, a pop star as well, responded in anger when the video of Knowles, charging and striking her brother-in-law went viral.
Photo: Courtesy
Related Topics