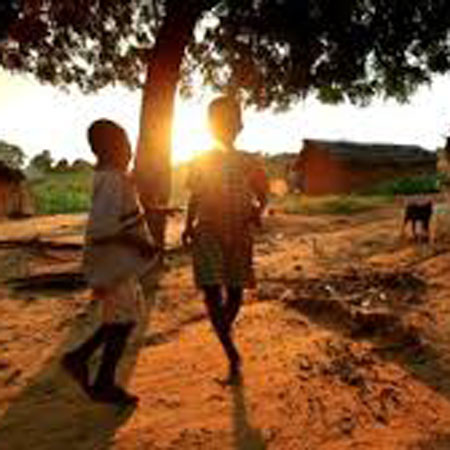 Kids herding livestock in the village      Photo: footage.shutterstock.com
Education cabinet secretary Prof Jacob Kaimenyi thinks children in lower primary school should be taught in mother tongue and everyone goes bonkers, calling the directive retrogressive and backward. Of course most of the noisemakers are Nairobians.
Look, a child is born in the village. He or she spends three years running after goats, chasing grasshoppers, eating dudus, playing cha mama and cha baba and doing all those exciting things children in rural areas do.
No TV. Then one day, parents decide it's time to go to school and the poor fellow is dispatched kicking and screaming to an old tree where an excitable nursery school teacher, who has not been paid for six months, is waiting to turn the reluctant fellow into a man or woman of letters.
What does the teacher do? She (nursery school teachers are always women) points at a chart that has seen better days and asks in Luhya: "Shino ni shina (what is this)?"
A sea of hands shoot up and our future intellectuals scream, "Shikombe (cup)!" The teacher says, "Very good!" which makes zero sense to her charges anyway and then explains that henceforth, 'shikombe' will be called 'cup'.
Kids in the village
It is one of the most basic tenets of education – moving from the known to the unknown. The only way you are going to instruct a child who only speaks in mother tongue is by using that very tongue, till Standard Four when that child will have sufficiently mastered English, or Kiswahili.
In that sense, therefore, Prof Kaimenyi's directive has no impact in the village because kids down there have been taught in mother tongue for eons anyway.
What is, however, shocking is that there are people in this city who think children learning in mother tongue is 'backward' because it makes them 'shrub'.
 That's just about the most, backward thing I have ever heard. Transport cabinet secretary Engineer Joseph Kamau, a reincarnation of 'mzee wa kazi' John Michuki, shrubs but that hasn't stopped him from being one hundred times sharper, more productive and successful than a lot of Nairobians who speak English through the nose.
All those coaches in the English Premier League shrub. Bank Ki Moon shrubs. The meanest banker in this town shrubs and all those Nigerians  whose men our women can't get enough of,  they all shrub.
What is it about Nairobians that they think lacing the colonial language with the tongue of our ancestors is a sign of backwardness?
And you know what influential breakfast radio host Caroline Mutoko wrote in a newspaper? "Language is not culture…" I don't know, Ms Mutoko… but someone with a beard taught me that language is the repository of culture.
Turns out the chap was high on muguka.
Related Topics