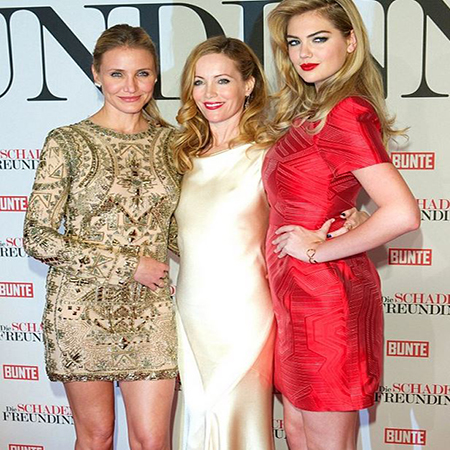 The Other Woman cast members
After discovering that her boyfriend is married, Cameron Diaz tries to get her ruined life back on track. Diaz is a lawyer at a powerful firm, but her prowess in law does not prevent her from being swept off her feet by a dashing business guy. When she accidentally meets the wife he's been cheating on (Leslie Mann), she realizes they have much in common, and her sworn enemy becomes her greatest friend. When yet another affair is discovered by Kate Upton, all three women team up to plot mutual revenge on their cheating men.
The joy of watching this kind of movie comes from seeing such a smooth operator go down as his schemes are revealed and destroyed.
The plot is brought in an outright funny manner, and who is better placed than Diaz to crack your ribs? For a while, Diaz and Mann make for a likable odd couple as co-conspirators—two women who couldn't be more different clashing and connecting as they unite for a common cause.
Their doubts and decisions come from recognizable places. But then there's a third woman whose introduction unfortunately throws the whole movie into wacky, slapstick territory.
Thumbs up
The Other Woman is a hilarious movie that has its own wonky charm and intermittent moments of genuine, depraved humour, whose directions and blocking leave you glued to the screen. Being her first on-screen role, Nicki Minaj delivers one of the few consistent pleasures. What better place to get wardrobe inspiration as well.
Thumbs down
The movie is funny but Kate Upton is not the kind to do slapstick comedy. It is too much of a role for her to act. The director should have stuck to intelligent humour and funny dialogue, than interrupt the flow. Also the character contrast is a bit too obvious.
Verdict
It has got some very funny scenes that you should watch to crack up your weekend. It raises questions about independence, identity and sisterhood that are not necessarily answered in this movie. Cameron Diaz does not disappoint either; she schemes in a manner that will leave you taking notes (ladies of course).
Related Topics