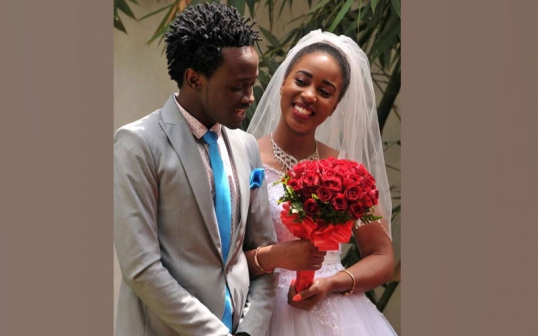 Bahati and Diana held their ruracio over the weekend
According to a source, they were informed of the wedding the night before it happened
It is still mystery to many how gospel singer Bahati tied the knot with his pregnant girlfriend, Diana, in secrecy. But now, MondayBlues can reveal how it all happened.
Through his official online pages, Bahati and Diana posted photos of their wedding on Friday evening two months after their planned church wedding, a ceremony that according to close sources was derailed by Daina's pregnancy.
According to reliable sources, Bahati and Diana had a series of meetings with family members and very close friends to discuss the way forward and it wasn't until early this month that they were given the go-ahead to get married.
Talking to MondayBlues yesterday, Bahati said the ceremony was a family affair commonly known as ruracio and not a complete wedding, as people thought. "When the right time comes, we will do a ceremony for all our friends. We thank God for our families that blessed us. It was a small but intimate affair. We are happy," Bahati said.
"We learned about the wedding the night before it happened and we were given instructions not to communicate to anyone about it. In fact, a car came and picked us up to the small hotel where it was all happening and the truth is, few of us can remember the name of the hotel where it happened," a source said.
The Bahati and Diana affair has faced a lot of criticism since they made it public that they were dating because of a previous affair that Bahati was involved in.
Diana was first introduced to the public as a video vixen acting in Bahati's wedding song only for the joke to turn out to be the truth.
Related Topics