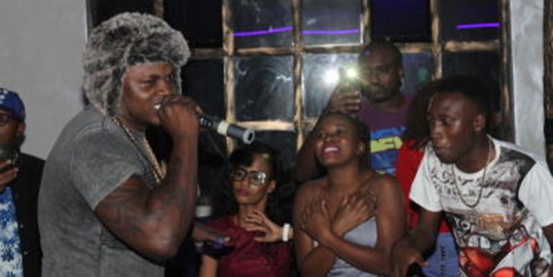 Performing his new track Toa Tint in a well-attended event at Courtyard, Nairobi, on Saturday night, new king of rap Khaligraph Jones dissed Nigerian music saying 254 (Kenya) is the home of the best rappers.
The rapper did not mince his words as he said time had come for the local showbiz industry to stop idolising Nigerian singers "as we got it going on at the 254".
"Mimi ni baba yao (loosely translated as I am the boss)," he said ideally trying to tell off the competition.
The inaugural VIP Special Saturdays gig organised by showbiz beauty Ruth Mueni who also doubles as a radio host was attended by among others Pacho Records boss Naiboi and Amos of Amos and Josh.
"This will be a weekly gig that will feature top stars. We just want to make it a VIP treat for our customers," said Brian Bogonko, the manager, Courtyard Grill.
Related Topics