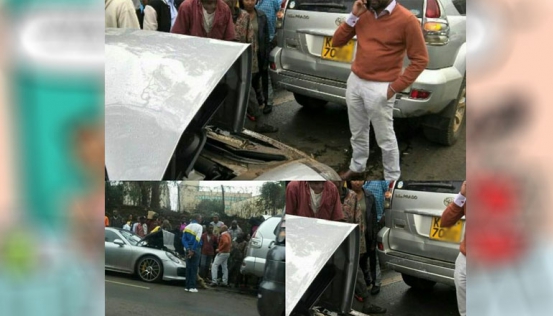 Royal Media Services proprietor SK Macharia's son escaped unhurt when he crashed his newly acquired Porsche saloon car that cost him a staggering Sh30 million.
John Macharia was racing the 911 Turbo S 2016 car when he crashed into a Prado that was ahead of him near Museum Hill, Nairobi.
He was arrested by police for among others drunk driving and released on bond in the Friday night incident. Mr Macharia came back on Saturday morning to Central police station where he picked his car on a Porsche Kenya breakdown services vehicle.
The Turbo S's breakneck speeds come despite the fact that it is outpowered by many other supercars and hyper cars on the market.
Police arrived at the scene minutes later and sought to know if any of the drivers and passengers were hurt. Witnesses said Mr Macharia was alone in the car in the accident before he was taken to custody and later released. When he came to pick the car, the incident attracted a huge crowd that wanted to have a glimpse of the car that had crashed. Police said they did not know where Mr Macharia was headed and coming from when the accident occurred. The car is one of the few of its make in the country.
Related Topics