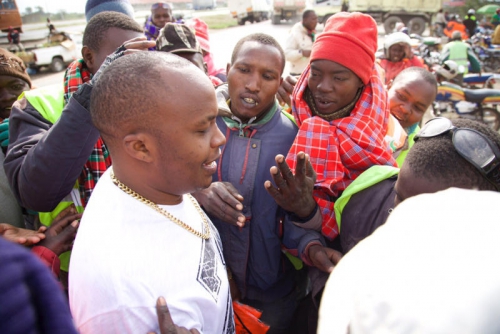 The Sh99 million drug scandal rocking the National Authority for the Campaign Against Drug Abuse (Nacada) has left officials in the divided, with singer Jaguar supporting a key suspension move made on five senior officials last week.
Nacada Chairman John Mututho interdicted his CEO William Okendi and four others over alleged irregularities exposed by an audit report that shows that the authority lost the loot under unclear circumstances.
And on Saturday, Jaguar who is a Nacada board member made his position known as he addressed 'boda boda' riders in South B during a charity drive in which he donated motorbikes and safety equipment.
"I do support my chairman in the current battle involving him and some Nacada officials in this Sh99 million scandal, which also involves 100 non-governmental organisations (NGOs). I also want to add that it is wrong for Nacada officials to collude with people who are involved in selling counterfeit drugs, a practice that has been making the fight against substance abuse hard," Jaguar said.
"Besides, the graft in Nacada is making it hard for the organisation to operate and I have no time for this kind of 'politics'. That is why I am taking it upon myself to run my own campaign, in which i have given out over 1000 reflectors to 'boda boda' riders," he noted.
According to the audit report, some unregistered NGOs have been receiving millions meant for advocacy against alcohol and drug abuse.
Mututho faulted the suspended officials for failing to sample over 3,000 brew collected countrywide adding that 400 of those samples, which had been stored in the authority's strong room, had disappeared in unclear circumstances.
"It is wrong to have Government officials swindle Nacada in such a mega way while over 2.6 million Kenyans are suffering drug addiction, a vice the officials should be fighting," Jaguar said. Some 'boda boda' riders ride while under the influence of alcohol hence causing deaths and accidents. This should stop," the singer added, during the Saturday awareness campaign.
Related Topics