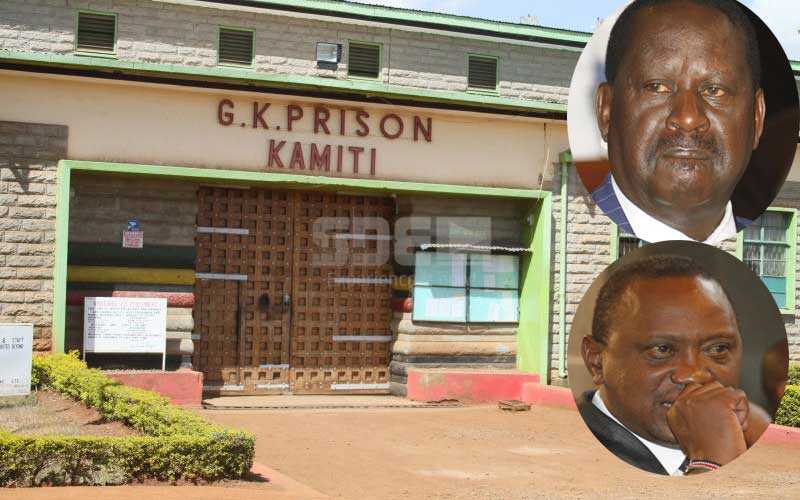 Kamiti Maximum Prison detainees favour Raila Odinga because he too was jailed
At Kamiti, Raila scooped more votes than Uhuru Kenyatta in the August 8 elections
Raila Odinga beat President Uhuru Kenyatta at Kamiti Prison in the first round of the August elections, but lost in the repeat two months later after asking his supporters to boycott the poll in 2017.
Odinga, a former detainee who was 'sworn in' recently as the 'People's President' at Uhuru Park in Nairobi, is favoured by inmates who regard him as one of their own having suffered detention himself at Kamiti Maximum Prison.
A senior officer told The Nairobian that Odinga was beaten by Uhuru in the repeat poll after he asked his supporters among them prisoners across the country to boycott the elections.
"Our statistics show that Odinga did not get more votes in October elections compared to the August election where he was overwhelmingly voted by prisoners," he explained. "The reason being that he told them to boycott the elections because he was not on the ballot. The prisoners 'worship' him so they hold his word in high esteem."
One inmate told The Nairobian that "Mentioning the name Raila to prisoners is like mentioning a Pope. He is their source of hope being birds of a (prison) feather. They relate with him having survived prison it gives them hope as well, hoping the will be freed in the near future."
Then there is the kitchen fire at the Kamiti Maximum Prison which is never extinguished. The jail kitchen is busy 24 hours and the cooking fire has never gone out even for a second since Kamiti was established by the colonial government.
The kitchen fire can only be extinguished if the prison has no inmates, but prisoners at Kamiti swear they will put it off once Baba becomes President of Kenya.
Odinga was fed from this jiko, eating half cooked ugali with watery vegetables in the years he was detained from 1982-1988 and 1989 to 1991.
Nasa supporters at Kamiti believe he will one day keep his promise of putting off the fire and set them free and they thus keep tabs of 'Baba' whom they hope will take them to Canaan.
But Raila Odinga has never returned to Kamiti since he was freed over 25 years ago.
The officer we spoke to explains that stories of the fire being switched off when Raila becomes President have been peddled for years by older inmates who were there when he was an inmate "but he (Raila) can only do that when he is the president through the power of mercy but not through other means. Ever since he was released he has never come back again."
According to results released by the IEBC during the October elections president Uhuru garnered more votes than the former premier. For instance Kamiti Maximum Prison has 585 registered voters out of which Uhuru got 287 votes against Odinga's three votes at the Main prison while at the Medium Prison Uhuru got 63 against Odinga's two.
At the Naivasha Main prison Uhuru got 97 votes against Odinga's one vote whole at the Kwale Main Prison, Uhuru got 11 votes against Odinga's two votes.
Interestingly, politics in prison is peaceful and mature unlike outside prison where people of different ideological persuasion bicker and fight over their divergent affiliations.
The inmates at the Kamiti Maximum Prison, for instance, gather under a tree to discuss pressing national issues including the economy, but politics takes centre stage with Jubilee and NASA agendas dominating but the prisoners do it in a civilised manner, tabling facts and figures to back up their juicier narratives.
That the Supreme Court directed that prisoners be given the right to vote- for the first time in history- only heightened their political consciousness.
One registered inmate voter told The Nairobian that "being allowed to vote shows that Kenya is changing. The Supreme Court granted us our democratic right; everyone here has their preferred candidates be it Jubilee or NASA. We politic but when it comes to casting our votes then it becomes a secret as we wait for the winner to be announced by the electoral body."
He went on to explain that the reason most inmates love 'Baba' is because "they can identify with him easily for being an ex-convict who has suffered in prison. We think he is more conversant with prison life than his competitors."
But another prisoner differed telling The Nairobian that "There are those who voted for the president (Uhuru) because of the reforms he has brought in prisons which has made life easier. But election results don't create a rift among us because we don't practice tribalism; we are brothers so politics does not define us though politics is our staple food to fight boredom."
Related Topics