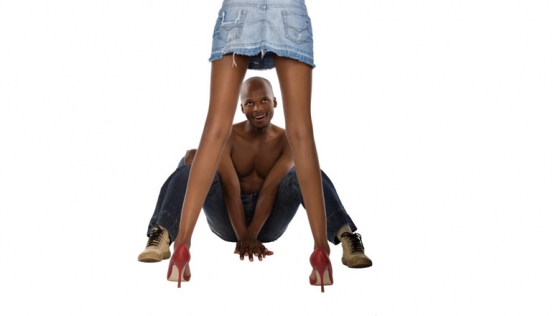 You must have read or heard the story of the 'sniffing Sikh.' He's the Muhindi whose story trended after The Nairobian published his idea of erotic fun: sniffing women's nunu and paying for the scented experience!
The Indian old geezer, he's bending his 60s, had earlier shocked Bamburi residents in Mombasa with his brand of sexual perversion - picking hookers and instead of hitting the sack, the Sikh paid for 'nosing around' their 'thigh-land' and anything in between, before letting a weird noise of ecstatic bliss.
He became the talk of town and has since been nicknamed to yule Kalasinga wa kunusa wanawake (the Sikh who sniffs women). He would pick sex workers from local pubs before going for sniffing sessions.
What the Kalasinga has is a fetish, a form of sexual desire in which gratification is linked to an abnormal degree to a particular object, item of clothing or part of the body.
People could also have a fetish for inanimate objects worshiped for supposed magical powers or because they are considered to be inhabited by spirits.
Some men keep ngothas of all the women they have slept with in a drawer, and use them to relive the experiences by staring at the different forms of G-strings, hot pants and even 'Mother's Union' panties.
For others, their fetish is staring at naked women in strip clubs while for some men, wearing a woman's bra on the head in bed is enough to induce abnormal freedom around their waists.
Then there is the Indian in Thika who often paid hookers Sh2,000 for nothing more than twitching their nunus from the back of his car at night for an hour. He preferred different hookers daily.
Indeed, the Mombasa Muhindi is not the only man with weird sexual tastes. The Nairobian spoke to women who revealed that the fetishes of most men are getting stranger by the day as illustrated below:
Flashing 'nyosh' hadharani
Some men are absolutely enthralled with public nudity, whether it is in a crowded public area or secluded mountain trail, and whether it is nonsexual or public humiliation/bondage.
Annette Nduta recalls this as the main reason she broke it off with her ex-boyfriend. "He was everything I wanted in a man - caring stable and ambitious, but I could not stand his fetishes. Sometimes, he would ask me to flash my boobs in public while pretending that it was windy.
One time, I got so humiliated when children started laughing at me. I had to leave him," Annette narrated to The Nairobian.
Do me, I do you
Some men love live porn and Janet Sindei broke up with a man after a week on discovering he was a voyeur. Sindei's lover insisted on watching her in the middle of it with another dude.
"He claimed that just thinking about it turned him on like watching a porn star getting it on. It would also make him jealous, but not in a bad way, more like an 'Oh yeah? Now let me show you how it's really done' kind of way," Janet recalled, adding that she later learnt other women had left him for that same reason.
Can I sniff your feet?
Feet are considered some of the dirtiest parts of a woman's body, but this does not stop some men from seeking sexual satisfaction from the toes upwards.
Grace Wafula, a communication expert says she dumped a colleague she was dating because "one night after an outing, he took me to his house and started sniffing my feet."
This went on for a while before she finally called it quits as "it never went beyond the sniffing, so at the end of the day, he was the only one who got satisfied. It was one-sided and I thought he was too selfish."
Poking eyes with dudu
You would think there are more important openings in a woman's body for a man to explore, but no, some men just want to 'go fishing' in a woman's eye.
James Saidem confesses that he gets turned on by a woman's eyes and wishes the nunu was in between the eyebrows. "I love girls with big eyes. I like to take my member and poke it around their eyes, although I do it gently. I know it might be frowned upon, but I can't help it," says Saidem.
Pee on me baby
Then there are the really weird men who feel a rush of sexual freedom at the feel of a woman's hot pee on their bodies.
Miriam Kanini recalls this guy who "would take me out of the house in the middle of the night and make me pee in various parts of the compound, creating small puddles. He would then smell them and groan in satisfaction."
Related Topics