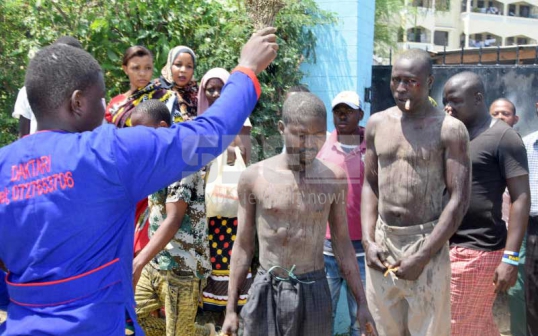 It was just a chain when he started dancing, but it grew into a snake as we watched- Witness
Police dismissed the incident a marketing gimmick stage-managed by the witchdoctor
The spectacular drama involving a witchdoctor, two naked men and a beautiful woman could have been a charade.
Abdalla Taichi, a witchdoctor from Uganda brought Mombasa to a standstill by using his juju to recover a stolen car from two carjackers, who gave curious pedestrians a butt-naked performance by the roadside.
According to the Kisauni OCPD Christoper Rotich, the whole thing was stage-managed as a marketing gimmick for the witchdoctor. Police have arrested the witchdoctor, the two alleged car thieves and the woman who claimed her car was stolen.
"We arrested four individuals, including the lady who was claiming that her vehicle had been stolen," the OCPD told The Nairobian on phone.
According to the police, the four are part of a gang deceiving the public with 'fake powers' in an attempt to con them of their hard-earned cash.
"That car was never reported as stolen contrary to reports in the media," the police boss said. The gang will further be charged with handling an endangered species without the requisite certification. The Nairobian has established that the snake the two 'suspects' were dancing with has since been put under the care of KWS personnel.
"No one should believe that the car keys turned into a snake," said the OCPD.
Some witnesses however, claim the snake wasn't there when the two went berserk. "It was just a chain when he started (to dance), but it grew into a snake as we watched," said one onlooker.
Christopher Mwalii, a boda boda operator outside Masters Club recalls that the carjackers looked as if they were mentally ill when they started dancing and smearing their bodies with mud.
Mganga Taichi, the man behind the spectacle, told The Nairobian that he used his powers to lure the carjackers to Bamburi where he unleashed his juju on them.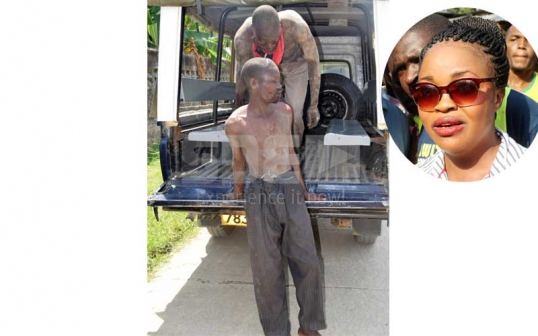 "I set my trap well and was only alerted after the two started their public misdemeanour," claimed Taichi, who had been contracted by a woman who has since been identified as Catherine Omokh. Apparently, the woman's car had been stolen.
"I assured her she would get her car back and got busy working on her case as soon as she paid a deposit," he said.
After they were arrested and taken to the police station, Taichi fetched them and directed that they be taken to his compound which also doubles as his clinic for cleansing rituals.
Once inside his compound, Taichi made incantations and used his flywhisk on the carjackers who were by then dressed in their muddied trousers.
He then chopped the head of a cock and as the bird flapped about and finally died, he declared that the spirits had been released and the men were free. Catherine said she would not press charges, arguing that, "As long as I recover the Sh100,000 I had paid daktari, I believe they have suffered for their crime."
Related Topics