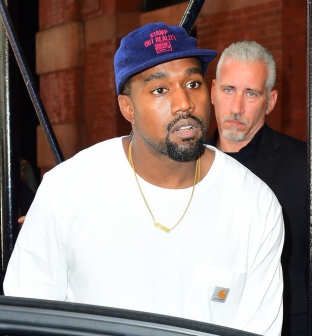 Kanye West is reportedly receiving treatment and was placed under assessment in hospital, just a day after cancelling his Life of Saint Pablo Tour.
The Fade hitmaker was taken to a hospital in Los Angeles after police responded to calls on Monday afternoon.
It has been reported that Kanye is being treated for sleep deprivation and exhaustion, according to People magazine.
"He is exhausted and currently dealing with sleep deprivation," a source told the magazine.
"He went to the hospital at will under the advice of his physician. He's fine."
The source added that West was not restrained and that "he went freely" to hospital.
The Los Angeles Police Department confirmed it responded to a report of disturbance but the incident was deemed a "medical emergency".
A Los Angeles Fire Department spokesman said: "At 1.20pm, the Los Angeles Fire Department responded to an unspecified medical aid request in the 900 block of North Laurel Avenue.
"An adult male described as medically stable was taken to an area hospital for assessment."
West's wife Kim Kardashian was expected to appear at the Angel Ball in New York City on Monday but did not attend.
It would have marked her first public appearance since she was robbed in Paris in early October.
It is unclear if Kanye remains in hospital, however the rapper's concert promoter, Live Nation, confirmed that the 39-year-old will not be performing the remaining dates of his Saint Pablo Tour.
Kanye's friends fear the star is reportedly suffering from "nervous exhaustion".
An insider told People magazine: "He's just exhausted. He's been working around the clock on fashion design, both on his own line and the Adidas line.
"He's a notorious workaholic, so balancing both that work - which is extremely important to him - and the rigors of the tour every night, it really wore him out.
"I'm sure Kim and his family played a part in the decision [to cancel the tour]. He's incredibly devoted to his family."
The Only One hitmaker decided to pull the plug on a series of concerts he was due to play across North America this month and into December.
Fans will be able to have their tickets "fully refunded at point of purchase", his spokesperson has confirmed.
The news comes only hours after Kanye cancelled his show at The Forum in Los Angeles on Sunday just a few hours before he was expected to go on stage.
A message on The Forum's Twitter page read: "Tonight's show has been cancelled. Refund at point of purchase (sic)"
And the 'Famous' hitmaker also turned up over an hour and a half late to his gig on Saturday before fleeing the stage after making a dig at Jay Z.
Related Topics