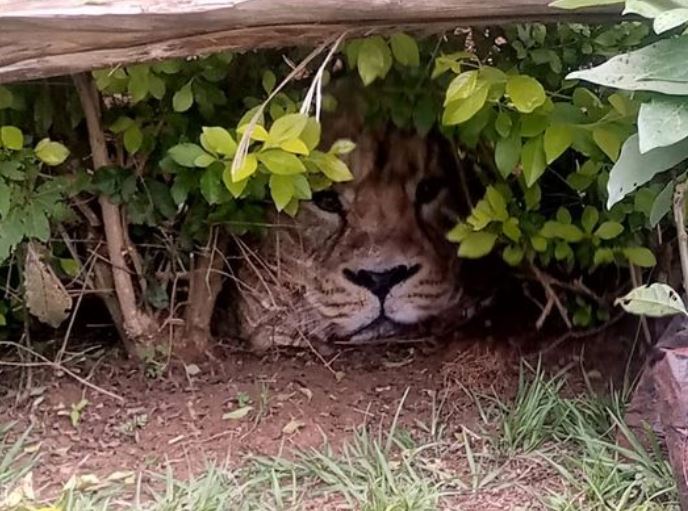 Residents of Kiangua Location, Meru County, have breathed a sigh of relief after learning that the 'lion' they had spotted turned out to be an image on a Carrefour shopping bag.
Sharing the ordeal on various social media platforms, numerous users stated that the 'big cat' spotted at Mutiribu village gave the inhabitants a scare as they sought help to prevent a possible attack.
"There was drama in Meru County today. Villagers in the sleepy Mutiribu hamlet that is about two kilometres from Mt Kenya forest thought there was a lion hiding in a hedge. The residents reported the matter to the assistant chief, who informed the chief.
"The administrators in turn called the nearest Kenya Wildlife Service to come and handle the animal before it could cause harm to humans and livestock," read a Facebook post by a user identified as Eric Kathenya.
Later, KWS rangers were on location to capture the animal, only to discover it was an image on a Carrefour shopping bag.
Funniest story! Apparently, the good people of Mutiribu, in Kiangua, Meru called @kwskenya called on the spotting of a lion hiding in the hedges, fearful for their lives.Turned out to be a @CarrefourKe paperbag!Punguzeni jaba!!???????????????????? pic.twitter.com/3KEbk8P7A7

— Naomi Mutua ?❤️ (@AKenyanGirl) May 5, 2022
Not only were the residents relieved, but many also found the incident hilarious and proceeded to take pictures of the bag.
"KWS rangers turned up and prepared to capture the lion. They too were convinced it was the big cat. Then the penny dropped. It turned out the lion was a paper tiger. Hehe... It was an image on a Carrefour shopping bag," added Eric.
Related Topics