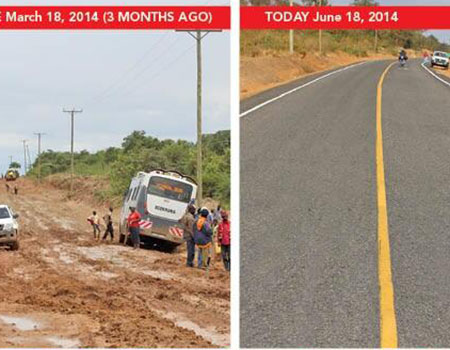 Before and after of Machakos highway Photo:Alfred Mutua\Twitter
By Ngari Gichuki
Thirty three kilometers of road in three months at a third of the cost is the record that Machakos Governor, Alfred Mutua, has set.
The governor recently officially unveiled the Kithimani to Makutano ma Mwala highway which has been dubbed the fastest built highway in Africa.
Mutua says, "We have built a 33-kilometre road for Sh650 million instead of Sh1.3 billion in 3 months. No to corruption."
He said that the highway was not only meant to boost the economy of Machakos, but also of the entire eastern region and the country at large.
Mutua further added that the completion of the highway will go a long way in improving emergency service response in the county which will translate into improved security for the people of Machakos.
"Today, if you call for a police car and ambulance, anywhere in the county, it will take between 5 and 8 minutes for it to arrive, this can only be attributed to our good roads and dedicated emergency and security personnel," said Mutua.
Last week, a press release from his office stated that the county had provided advanced communication gadgets to police and Sh200 million for police housing.
According to the Governor, the exercise was a way of boosting the morale and improving the living standards of police officers in the county which will translate into better service delivery from them.
"We want to continue supporting what Uhuru Kenyatta's Government is doing, Security is both a national and local problem and we all have to play our part," He said.
"There are plans to build good houses for our law enforcers. Our Police need to live in decent housing to boost their performance in maintaining law and order. It's also a way of showing appreciation since they put their lives on the line for us," added the Governor.
The communication gadgets provided to the police are part of a programme by Machakos County Government to make the county secure for its residents, visitors and investors.
The Machakos County Government has provided 120 police cars and has already installed 500 CCTV cameras and set-up five control centres.
This advancement in both security and infrastructure has seen Machakos transform into a metropolitan area with investors from far and beyond showing interest investing in the county.
It has also opened up the area to event organisers and merry makers who want to escape the hustles of the city.
Likewise the county through its upgraded stadium and sporting complex has had the luxury of hosting high profile sporting tournaments as evident with this year's Masaku 7's rugby tournament happening this weekend.
Related Topics