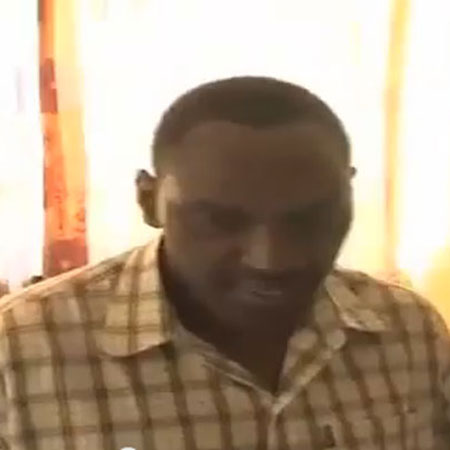 A pastor who was caught in a compromising position with a married woman in a Karatina hotel last week has sought forgiveness. Pastor Antony Maina of Kenya Assemblies of God (KAG) Eastern Gate Church repented before the church congregation on Sunday.
Although he said he was remorseful over his actions and had mended his relationship with God, the church administration suspended him. The pastor, accompanied by his family, arrived at the church to a warm reception by faithful. He had skipped the morning service and only turned up at around 1pm after the service had ended.
The church compound was under heavy police presence to prevent any a violent attack; last Thursday, some residents stormed the compound threatening to burn Maina's car after watching his "infidelity" on television.
With his wife Betty Maina and two children by his side, Maina looked composed, unlike the dramatic scenes on TV where he was seen receiving blows from a man said to be the injured party. Speaking to the media after the service, Maina made it categorical that he wanted to confess his mistake but not to defend his amorous actions. "I am not here to defend myself. I know I committed a mistake and the person I have committed the biggest mistake against is God. I have sought His forgiveness. I also ask the church and the Christian community to forgive me," he said.
Maina revealed he had sought forgiveness from his wife and children for committing a sin that had embarrassed them. While noting that the Press had stormed into his hotel room, Maina thanked journalists for doing so, saying they had saved him from committing adultery.
KAG Eastern District Bishop, Moses Muthee, said the church leadership had weighed the incident and resolved to suspend Maina from the management and leadership of the church until the country bishop and top committee sat down and decided his fate.
"According to the KAG doctrines, the pastor has done something that contravenes God's teachings hence he cannot continue serving in the church. The regional office will appoint another pastor," Muthee said.
The pastor's family said they had forgiven him after he opened up to them and sought their forgiveness. "He is like a wounded soldier and what a battalion does when one of their own is wounded is join hands to help him. Let us help him and I know God will bless us," the pastor's wife said.
Maina was allegedly busted in a compromising position with an Embu mechanic's wife in a Karatina hotel last Wednesday.
Read Also: How I caught pastor with my wife
Related Topics