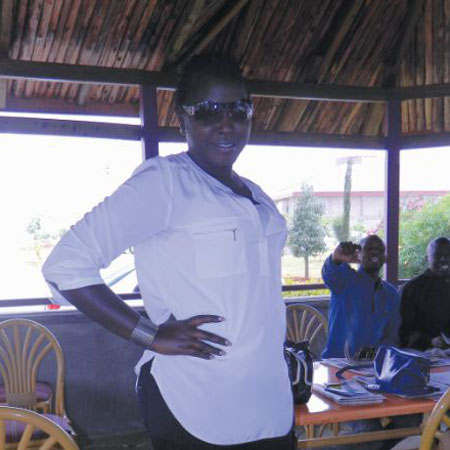 Emmy Kosgei says that she is not pregnant
By Stevens Muendo
After her glamorous wedding about a month ago, wild rumours spread by blogs had it that Emmy Kosgei, the celebrated gospel singer was expectant long before her wedding.
But last Friday, the singer walked into our office and posed a flat belly before she joked; "See, I am not pregnant". She looked cheerful as ever, that after returning to Nairobi for the first time since tying the knot with celebrated Nigerian preacher Anselm Madubuko.
It was during the exclusive interview that the award-winning star confirmed that she was a Kenyan-Nigerian dual citizen. She said her Kenyan music base will forever remain vibrant despite the fact that she is now being considered Nigerian.
"I heard of all those rumours, people saying I hurried my wedding because I was pregnant. I decided not to answer to critics. But see, here I am, do I look six months pregnant? That was a big joke. As long as I plan to get babies and the fact that pregnancy is a good thing, everything has to be done in its time," she clarified.
Emmy, who was accompanied by one of her sister, also serving in her Kenyan office, had just returned from Russia where she had a huge gospel concert. She had come to organise her December concert to be held in Eldoret at the close of the year.
"I am flying back to Nigeria tomorrow (Saturday) but I will be back here in December for my annual Eldoret gospel concert," she told MondayBlues.
Related Topics