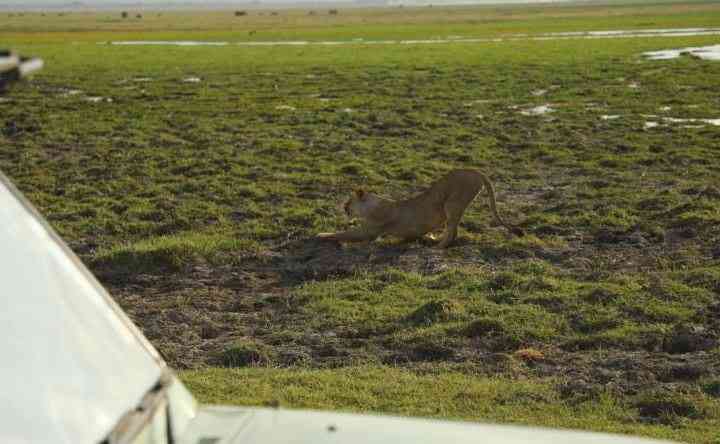 Have you ever heard about conservation holidays and conservancy destinations?
Not many travellers and vacationers know about this, but many have travelled to such destinations and taken such vacations, only probably did not realise this.
In looking for new ways to attract tourists, and travellers especially after the Covid-19 slump many stakeholders in the tourism industry are rebranding and repackaging travel destinations to capture as many clients as possible. Conservancy tourism is one such destination – a new kid on the block.
Conservation tourism, also known as ecotourism, is characterised by travel practices that minimise environmental waste, encourage conservation, and educate travellers on the need to safeguard the wildlife and habitant – the ecosystem that is critical for the existence of a healthy globe, core to human survival.
Thus, at the travel destination, conservation takes the form of learning about recycling, saving energy and water, in-depth learning about animals that are in danger of extinction, learning about wildlife-human conflict, and wildlife trafficking among others.
Of course, all this is packaged with adventure, fun, and leisure for the traveller. There is never a dull moment as I found out in my recent conservation travel to the Amboseli ecosystem.
This travel was different from my previous travels.
Denis Woods (nickname for Mbau), our team leader had chosen a destination among many options, and had travelled beforehand to ensure that the destination and accommodation adhered to the standards of Conservation tourism.
Our three-day training and four-day field visit was a collaborative project by TRAFFIC, the International Union for Conservation of Nature (IUCN), the International Fund for Animal Warfare, the Africa Wildlife Foundation, World Wide Fund for Nature, among other partners. The Association of Media Women Association in Kenya (AMWIK) coordinated the project.
I needed to pack carefully ensuring that I leave out unnecessary items (practically travelling light – the travel tips came in handy). Travelling in a group with light luggage as I learnt saves on fuel.
Our briefing also brought afore the fact that our team of 12 had to typically limit wastage – asking the hotel to refrain from washing our towels and sheets daily (yes, though this is part of paid service), as a way of saving water and energy. The dos and don'ts during the conservation travel felt like I was back to my lower primary classes.
Our trip to what our team leader described as an adventure-fun-learning tour of the Amboseli ecosystem started from Hurlingham, Nairobi, after three-day back-to-back learning sessions on wildlife trafficking.
Our three-hour leisure drive brings us to the Emali-Amboseli junction, our one-hour stopover point for the day.
I notice that the previously non-active cultural stopover is now thriving, and the expansion construction that is happening is an indication that tourism is back to its normalcy.
A further two-hour drive brings us to our destination – the AA Lodge.
After freshening up, I take a stroll around the expansive property, with well-designed canopied paths and a pool.
I spend moments inhaling the fresh air, but occasionally these moments are interrupted by "giggling" mongoose that chases each other playfully along the pathways and in the lawn grounds, sometimes stopping to "grab some food".
Watching Africa's tallest Mountain, Mt Kilimanjaro from a strategic as I take in the lays of a beautiful sunset, is so magical and stimulating.
The next morning we live early for Elang'ata Kima Village for our meeting with the community. Though it is 8am on our arrival, the villagers are out-and-about. The sun is scorching, the heat unbearable.
The village lies at 19,600 feet against the backdrop of the towering and majestic Kilimanjaro. From a distance, one can stretch as far over the lowland plains of Amboseli.
We are here to learn about the devastating drought, the results of climate change, human-animal conflict, bush meat, wildlife trade, and other wildlife crimes.
The Maa community, Kenya Wildlife Services, and initiators of the CONNECT project are working through partnerships and collaborations to find lasting solutions for a win-win situation for the human-wildlife conflict, environment, ecosystem conservation, and above how to contain wildlife crimes.
At Tsaru Conservancy, we meet Elizabeth Ngeiyoshimama, a member of a women's organisation that is focused on combating poaching and wildlife trafficking, especially trading in bush meat.
The Maasai community does not eat bush meat, but due to hardships faced by human-animal conflict, drought, and other climate change challenges, the community started engaging in wildlife trafficking and bush meat trade, says Ngeiyoshimama.
However, she says, by offering the Maa community solution-based interventions such as employment (rangers), an alternative source of income (farming, beekeeping, SMEs), the community has joined the fight on the protection of wildlife conservation of the ecosystem.
We spend the two days traversing the expansive Kajiado County, and by the time, we are done, I have travelled to Loitokitok, Isnet, Kimana, Mbirikani, Rombo, Lenkisim, Meto among other places in Kajiado South.
"Wildlife crime works against the objective of sustainable wildlife conservation and is driving many species toward extinction.
As a global community, we urgently need to enhance local, regional, and international cooperation to guarantee the security of our wildlife," says Dr John Kioko, Regional Landscape Coordinator, at WWF.
I know what Dr Kioko is referring to – the need for social and behaviour change communication solution-based models in the fight against illegal and unstainable wildlife trade.
Related Topics