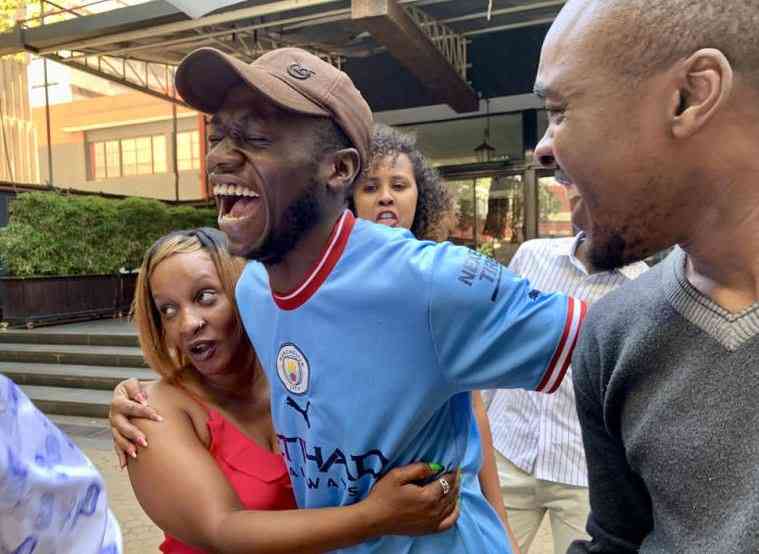 In a fully packed Alliance Française Auditorium, Nairobi the stage lights up to Mellisa (Bernice Nthenya), a young sassy lady who is making ends meet in Nairobi.
She is in her sitting room where her househelp Esther Kahuha joins her in a deep debate on how unfaithful Kahuha has been as her worker.
It is the start of a one hour plus comic thrill, the latest comedy in town that has everyone talking.
Get Me Out (G.M.O) is a massively laugh-a-minute original play from the giants of comedy Heartstrings Entertainment.
It is a Kenyan story about how Kenyans approach new year resolutions. That this year resolutions are a sum remainder of what last year's resolutions were. This laughter-filled original one and half hour comedy play by Heartstrings Entertainment will hilariously show just how Kenyans leave it up to the last day of the year to try to accomplish what they planned as resolutions the entire year.
In this comedy, Mellisa, had promised herself and made a resolution that she would have a kid by the time she is 35. She manages to get herself pregnant by the said year.
Unexpectedly and in shock, the story reveals just how she is not able to identify the father of her son. Having reconciled herself and accept the situation that she is a single mum, she swears that her son will not be raised like a riff-ruff. That her son, Baraka, must get the best education, the best health care, top notch upkeep.
For her to meet this goal she manages to convince three men to step in in those three areas. However, the three men are unbeknown to one another. Each with the single notion that Mellissa is raising a son for each. Mellisa has tactfully, cleverly and mercilessly made sure that the three 'fathers' never meet.
So for five years each of the three have provided for the kid at the risk of their own lives.
Mellisa has taken advantage of the attributes of the three 'fathers'. Ambetsa (Arnold Savior) has an upcountry family of seven, one wife and six daughters. He has gotten the six daughters in an attempt to try to get a son. The fact is that Ambetsa is a family man. That is good for Baraka. The second 'father' Musyoka (Ndisii Timothy) is a personal assistant to a local MP. He has resources at his disposal. Mellisa needs these resources to raise her son.
The third 'father' is a dedicated breadwinner who has gone to Dubai to eke a living just to make sure that Baraka is well taken care of. These positive attributes of the three men is what Mellisa has decided will use to raise Baraka.
Of course this kind of life must come tumbling down at the end. When the three men shockingly discover that they have being played by Mellisa, they unbelievably discover that Mellisa was on a mission to punish them for their shortcomings, greed and infidelity.
Salt is added onto the wound when Baraka's real father in surprisingly revealed right infront of the eyes of the three men. For five years the gynaecologist Joy (Joy Wairimu), has been helping Mellisa manage the three men. She is served a more bitter medicine as Melissa reveals that Baraka is actually the son of the gynae's hubby.
Also in the mix is Zaitun Salat, Joy's secretary, a Gen Z who has attitude that is bigger than life. The play is directed by Sammy Mwangi, the Heartstrings Entertainment boss.
Betrayal in the City
And making a major return, adapted from Francis Imbuga's literature book Betrayal in the City, director Straurt Nash has had the roads leading to the Kenya National Theatre (KNT) where the play has been showing.
Betrayal in the City was first published in 1976. Weaved together Francis Imbuga, one of Africa's foremost playwright and actor, the original book is is an incisive examination of the problems of independence and freedom in post-colonial Africa states, where few believe they have a stake in the future.
"It was better while we waited. Now we have nothing to look forward to. We have killed our past and are busy killing our future," one of the characters notes. Francis Imbuga is a playwright and actor. He is the recipient of the Kenya National Academy of Sciences Distinguished Professional Award in play writing.
Related Topics