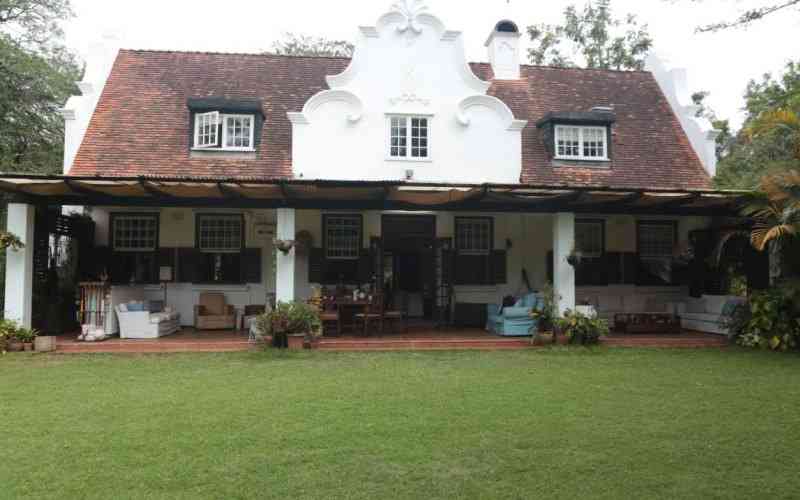 Are you looking for a charming staycation spot in Nairobi or its outskirts? These hidden gems will make Valentine's Day memorable with a loved one.
SHAGALABAGALA
Colonial Style Getaway
Shagalabagala house is one of the most iconic colonial structures. It's full of character and personality. Shagalabagala, sits on a four-acre land in Karen, a three-bedroom house with a master bedroom.
Outdoor scenic views on views, fresh air and serenity are total bliss. This is a brilliant and perfect getaway for love birds. The terrace ambience is sensational, authentic and classy
The outdoor and indoor atmosphere sounds, textures, colours, noises and smells make this colonial home special.
When you finally enter the compound, it's hard to believe that you are still in Nairobi because of its incomparable views of the lovely garden, trees, and flowers. Be on the lookout for monkeys swinging from the trees.
The bar set at the terrace's incredible display is inviting. Chilling at the terrace is an excellent way to while away an afternoon with your loved one, enjoying the great vibes and tranquillity of a two-storey colonial-style home
The furniture arrangement at the terrace is banquet-style with re-upholstered local and vintage sofas.
Art connoisseurs will savour the gorgeous black and white pencil sketches, incredible art pieces, and two-dimensional white and black masterpieces with wild cats and other wild animals in the living room.
The living room's wooden floor, a laid-back sofa upholstered in cream cover, a fireplace, a handcrafted chandelier, nooks, crannies, art pieces, and souvenirs give the space a cinematic feel.
Costs Sh150,000 per night inclusive of food and drinks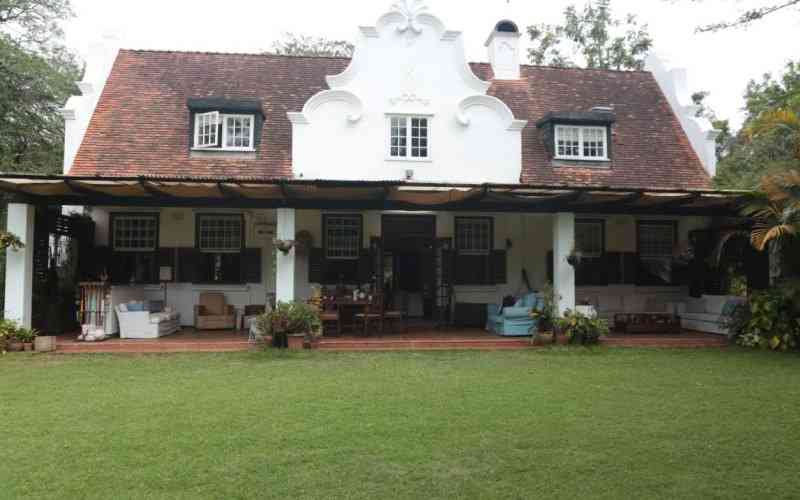 AFRICAN HERITAGE HOUSE
Historical getaway
The inspiration for the African Heritage House was a mud mosque that its late co-founder Alan Donovan saw in Mali. The house is a two-story concrete building with a mud finish. It has five rooms and two living rooms that can host 14 people and is open to the public. Art connoisseurs and enthusiasts will love the African Heritage House, which offers unforgettable experiences. From its uniquely guided tours, this home captures African heritage
Visitors are always awed by the treasures and the tastefully displayed jewellery. The furniture, fabrics, and art pieces are a testament to the late co-founder's impeccable taste. Gorgeous vintage handwoven wool rags from Morocco on the floor create a tribal and authentic feel. One-of-a-kind statement Swahili furniture pieces showcase the creativity of Coastal communities. Oriental rare jewellery in the house includes ostrich egg beads, amber from Mali, silver from Ethiopia, chevron beads traded in the 18th century, and gold weights from Ghana.
Costs Sh20,000 per night inclusive of breakfast.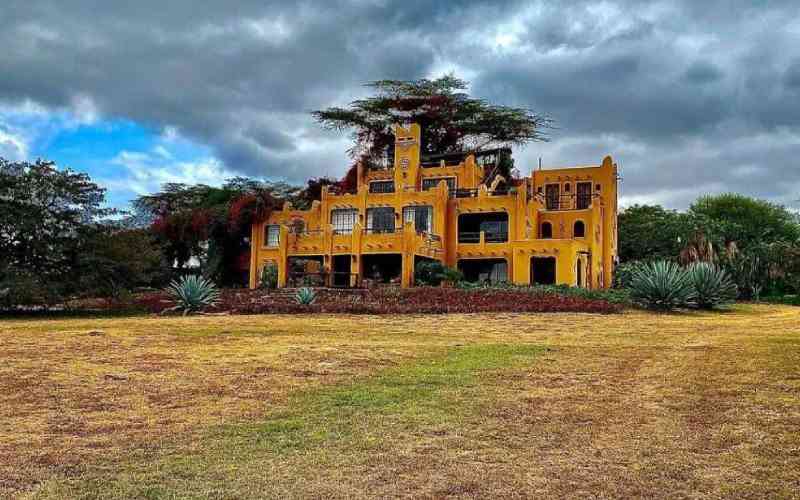 CRESCENT ISLAND
A hidden, charming paradise
This hidden gem in Naivasha allows you to relax, reconnect, escape the hustle and bustle of life and immerse yourself in nature. Amidst the disarmingly beautiful shores of Crescent Island, one has to take a boat ride to the island. The trip is blissful; Lake Naivasha's fresh water is tranquil and picture-perfect. A boat ride, which takes approximately 10-15 minutes, is the only way to access the island.
The sweeping views of the lake, breath-taking blue skies, and lush green grass blended with the acacia trees form the perfect landscape for a nature lover. The lake is 18 metres deep, and the island is home to the Maasai giraffe, gazelle, countless species of birds, hippopotamus, wildebeest, Defassa waterbuck and Central African Rock python. Crescent Island has three cottages, Hippo House, Giraffe house and Fish Eagle. Even with their serene ambience, the three are as different as night and day.
Costs Sh14,000 for accommodation only.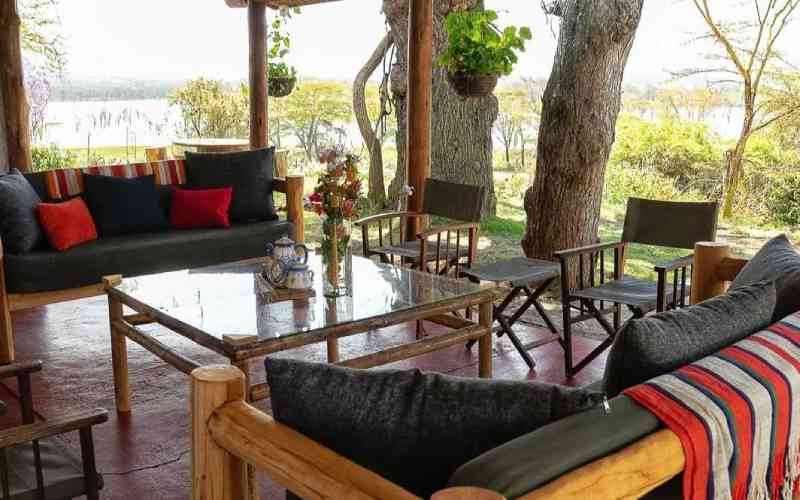 OLOLO SAFARI LODGE
A luxurious eclectic experience
Ololo Safari Lodge is 45 minutes away from the Nairobi city centre. Panoramic views overlooking the famed Ngong hills will blow your mind. The magnificent views overlooking Nairobi National Park will take your breath away.
Its reception has an eclectic classic look. The space is cosy, artistic and inviting. Some activities include foot bridge walks for lovebirds, swimming, bird watching and game drives. Be sure to check out its authentic, unique and luxurious rooms.
Bed and breakfast cost Sh30,000 and above depending on the room.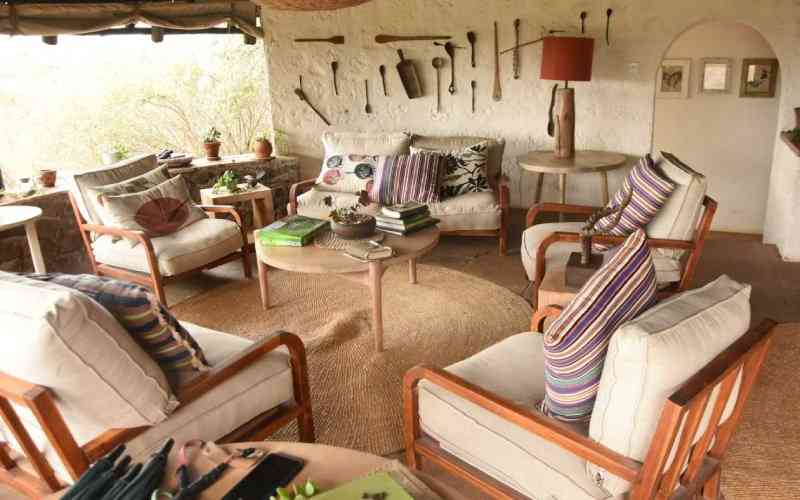 K'S GETAWAY FLOATING ROOMS
Unique out-of-the-box experience
The getaway's three rustic floating rooms offer a perfect hilly view and the untouched beauty surrounding them. The soothing sound of the flowing river and birds chirping in trees in this piece of paradise are not to be missed. The rustic floating rooms are spacious. The tents have a bed, hot shower, toilet, and a television.
A quant boat that's a piece of art made out of rough-hewn wood and a motor engine transports guests to the rooms. The tent is intimate enough to accommodate two people - and it's not ideal for children. The only setback is that one has to order food from neighbouring eateries because they don't offer food.
They offer activities such as zip lining, fishing, swimming, and camping. If you're in search of a wild, rare and unforgettable experience, head to K's getaway. It's about an hour from Nairobi.
It costs Sh30,000 per night inclusive of breakfast.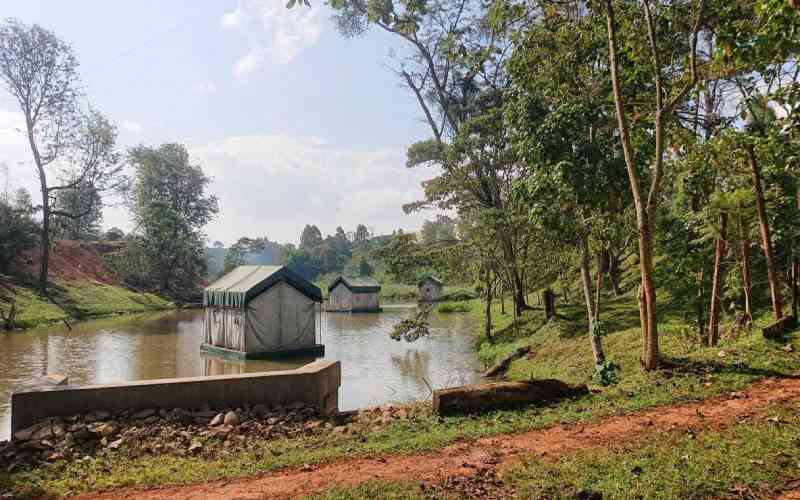 NAIROBI TREE HOUSE
Nairobi Tree House is shabby bohemian chic.
The main entrance has an antique, Arabic-style door with a French head. It leads to the living room and kitchen, a high-ceilinged space with a traditional chimney and wooden floor. Egyptian paintings inherited from the owner's father, adorn the walls
Quite striking is the heirloom chandelier that hangs from the Makuti ceiling. A wooden library that can only be accessed with a ladder hangs just below the ceiling and occupies the whole width of the house.
The kitchen area leads to the TV room, a space that boho chic enthusiasts will fall in love with: mood lighting and clever layering of textures and colour give the room a fairytale appeal. Inviting leather sofas with Moroccan cushions beckon guests to sit and savour great art.
Peacock feathers displayed on the chimney piece add a whimsical touch. The owner's bedroom overlooks the forest and a nearby river. Large, Indian-inspired arch windows give the space an airy feel. The trap doors and ladders used to access rooms add a sense of adventure.
Just 20 minutes from the city centre, Nairobi Tree House is open to the public during the holidays and can be booked on the Airbnb website. The Tree House has four cottages, and it can accommodate eight people. It offers activities such as sundowners, walks, and picnics. Also available are a chef and house manager.
ZERO TWENTY GOURMET RESTAURANT
Located in the Kitusuru area, the new gourmet restaurant in Nairobi Zero Twenty is disarmingly beautiful. It's airy, light-filled and classy. This restaurant is a breath of fresh air, and the decor in the main restaurant is classy, exceptional and inviting.
If you plan to take your loved one for lunch or dinner on valentine's day, Zero20 they have a special dinner and dance for couples and singles. You'll be treated to tantalising cuisines by their renowned chef, and the dining experience will make for unforgettable moments. Ensure to experience its Champagne Bar after the fantastic meal.
Meal costs Sh3,500 and above exclusive drinks.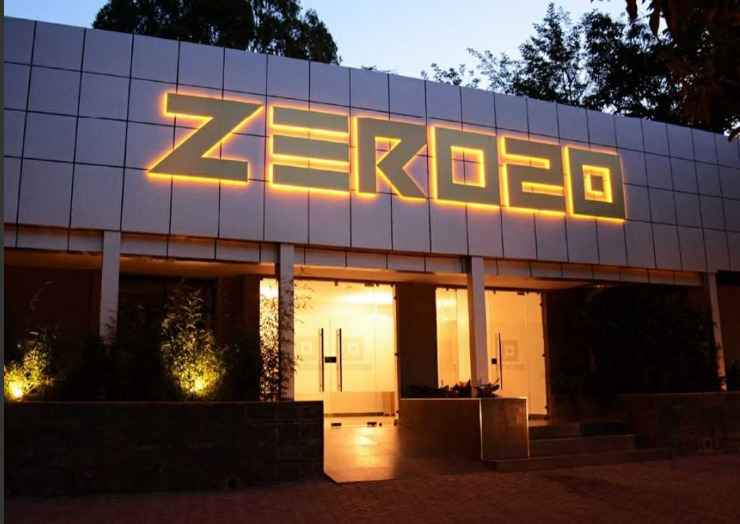 Related Topics