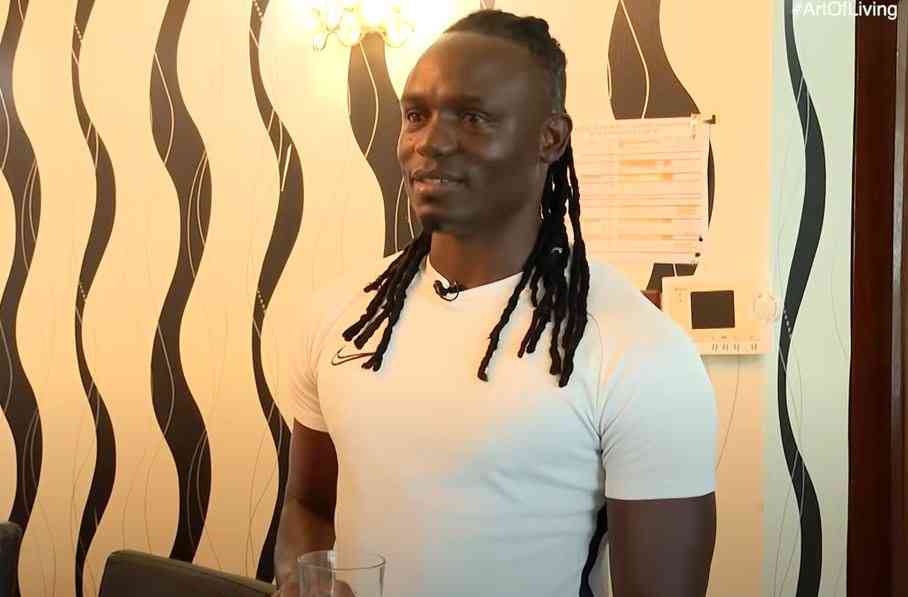 Heskey Thomas Wanyama is a former football player and brother to famous footballers Donald Mariga and Victor Wanyama. He played for Nairobi City Stars before Sofapaka poached him at the cost of Sh600,000 years ago. He made his international debut for Kenya in 2012 but unfortunately hung his boots after an injury.
On the day of his interview, he first invited me to his young brother's home, Harry Wanyama's penthouse, where his brothers, Victor, Donald and Harry, were watching the latest World Cup.
Harry's penthouse was colourful, with a wooden floor, huge windows and a double ceiling. A staircase led to the penthouse studio.
The space was inviting, with vibrant yellow and green sink-in luxury sofa sets and a dining area. A staircase led to other rooms and the studio. As we ascended to the studio, Thomas informed me that they were recording interviews with international football stars, and soon they would launch the podcast.
The studio was spacious, and the podcast microphones had high-tech recording mixers. The high-end foosball table with foosmen in gold and blue looked posh. Blue lighting created a calm and sophisticated feel.
Immediately after the studio tour, he took me to his luxury penthouse apartment. He lives in the same apartment block as his brother, Harry.
The apartment was different, contemporary and stylish. His love for the duo-chromatic white and black patterns on the wall was evident, bringing out his playful side.
While in high school, his brother Donald helped him and Harry purchase the five-bedroom ensuite luxury apartments in the city's suburbs. The apartments were off-plan at the time and cost Sh14 million then. Now, they are worth about Ksh23 million, he informed me.
The stunning gypsum ceiling hung glamourous crystal chandeliers. They add a cosy feeling to the space. The bracket crystal light fixture on the walls gave a pop of contrast to the duo chromatic black and white pattern walls.
The plush grey and white sofa sets stood out, and the grey and white striped carpet created the perfect atmosphere for intimate interaction, hangouts or parties. The massive screen against a brick accent wall invited one to sit, relax and enjoy their favourite movie or sport.
The TV stand was decorated with an eye-catching WWF belt. It was gifted to him in London. Thomas shared that Mark Mahon gave him the belt after a boxing match for travelling eight hours to watch the boxing game. It is worth £125,000.
I asked him if he did his décor, and he explained that he got an expert to assist him with the gypsum ceiling, fixing chandeliers and the rest of the items in the house, which he purchased.
The golden leopard is a statement sculpture that he cherishes. He supports AFC Leopards, hence the artistic sculpture.
His other ensuite master bedroom is elegant, bright and colourful with cheery orange colours. Orange and green curtains add a splash of joy and happiness to the room.
The low king-size leather orange bed is attractive and looks comfy. His high-tech Play Station is strategically placed for him to play while relaxing. "I sleep in this room when I am very tired to go upstairs," he said.
Breath-taking artistic art pieces and portraits displayed on the walls are significant to him. Among them is a portrait painting gifted to him in high school. It is sentimental – a picture of him playing against Tunisia and being carried by his coach on his back for an outstanding performance. The image evoked memories of his heydays in football.
He explained that he longer plays football as, after his injury, something went wrong during the operation, which damaged his knee. This ended his career in football, but he went back to school to study Human Science and Sports Management.
We ascended the stairs, and he took me to his other spacious bedroom with a purple leather moon-shaped bed with floral bedding. The music player embedded on the headboard and speakers on the side of the bed were fascinating.
A lounge area, television, fridge, coffee maker and table; and leather seats to chill in at the corner of the room create a perfect living and dining space. A huge display of all the sports shoes he owns on the wall was remarkable – he has all luxury brands represented in his shoe rack.
As I went through his shoe collection, oohing and aahing, he gifted me a pair of Louis Vuitton sports shoes worth Ksh40,000. To say I was over the moon about his generosity and kindness is an understatement. Thomas lives by the mantra, "I pray every day, and I believe in God."
Watch Art of Living every Sunday from 6 pm to 7 pm on KTN HOME and follow and give feedback on Twitter and IG @missnailantei
Related Topics