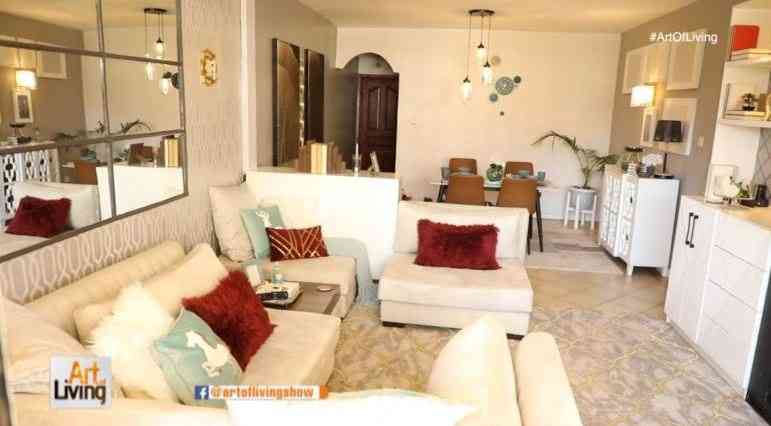 Best known as All Things Chris, Christine Wangari is a celebrity interior designer and content creator. She has designed homes for the likes of Wahu, Betty Kyalo, Kamene Goro, and Size 8.
She is warm-hearted and such a breath of fresh air. Upon entering her apartment, I could tell she poured her heart and soul into her space with surprising touches that make it a welcoming space.
Her apartment is chic and modern; the colours in the room soothing. One of the walls, which is grey, is adorned with two gorgeous portraits embellished in black and gold and a teardrop mirror in the middle to create symmetry.
Christine fused arched patterns inspiration as the backdrop and theme of her apartment. My attention is drawn to the arc pattern on the wallpaper, the carpet, cushions, cabinets and quirky accessories. The cohesion of these arc patterns is striking and immaculate.
The dining table is elegantly adorned with blue-themed cutlery and meticulously displayed accessories: a clear, fancy light fixture, an antique turquoise clock and a chandelier bracket give the dining space a stunning look. There are decorative frames with beautiful, meaningful messages on the walls, too.
The rest of the apartment has a neutral pallet on the walls, giving it a perfect canvas to create a seamless balance for the design. A glittering crystal chandelier, cream custom-made micro suede fibre sofas, and soft furry maroon cushions give the space a distinctive character.
The entertainment unit is her focal point, and two adjacent white shelves hold glamorous treasures, exquisite souvenirs from her travels. The middle part of the shelves is black. "I used black contact paper to create depth," says Christine.
Adjacent to the entertainment unit is a huge, glamorous tile square mirror. "This mirror creates an illusion of space and bounces off natural light, and it adds a note of luxury," she says.
Why this kind of style?
"I am a millennial and passionate about mid-century modern interior decor style and everything glam," she says.
She says personality must be infused in the house. Christine was a flight attendant for many years. She travelled the world, and a few things around her home remind her of places she has visited, such as Malaysia, Italy and Dubai.
"Also, as an interior decor expert, one needs to put principles of interior design in place, scale, proportion and balance and the emphasis for me is my focal wall," she says.
"Think of your space, ceiling, walls, and floor as an envelope. Make it as monochromatic as possible. For example, if you have the colour grey, have it in all the tones," she says. Her words, gestures and expressions are filled with pride and passion for interior design.
Her bedroom is inviting and cosy with white curtains, a maroon headboard, luxurious maroon cushions, beautiful lampshades, and a fur throw laid over the quilted white bed cover.
"I get my inspiration from Pinterest and some celebrity designers. Mikel Welch and Jeff Andrews inspire me," she says
Christine advises that three things one can change in a home to give it a makeover without breaking the bank are: Wallpaper (it is affordable), have great lighting and create a mood board for planning purposes. "It will help you save your budget and achieve your goals faster," she says. [Nailantei Kenga]
Watch Art Of Living every Sunday at 6:30pm, and watch this episode on the KTN Home's YouTube channel.
Related Topics