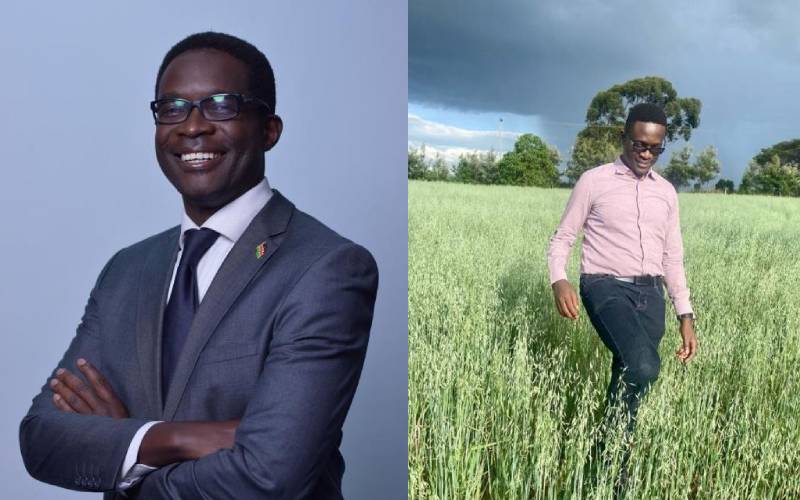 It's 9am on a Friday and Ezra Chiloba is in a meeting when I arrive for the interview. He is nodding while poring over an open tablet in front of him and when he sees me, he gestures to another table where I wait my turn.
"Your days must be hectic," I comment once they conclude, and he says no, this is one of his more relaxed days. He is semi-casually dressed in a shirt, grey half sweater and grey coat over jeans.
"I mean, I'm here and not in the office, for one. And the coffee here is the best in town, so it's a good day," he says.
A pleasant scent wafts through the air as a lady in the corner does her magic with coffee and incense in the Ethiopian restaurant that we're in. He has a measured manner of speaking and I can almost hear the cogs turning in his brain as he reflects before and while responding to my questions.
The dust from the furore over the SIM card registration issue is just settling. He is the face of the Communications Authority, so he got the brunt of the public's ire when the authority declared Kenyans had to register their cards afresh or face a hefty fine.
It was the second time he was in the crosshairs of the public, the first time was over the general election.
Not that it fazes him now, having experienced firsthand the fickleness of public opinion. He was probably the most popular person in Kenya for a hot minute in 2017, especially with the ladies, who christened him 'Chilobae'.
That year, he was the third most searched person on Google in Kenya, and the top searches about him were, in order, "Is Ezra Chiloba married", "Ezra Chiloba age" and "Ezra Chiloba CV".
To put that to rest: Yes, he was and has been married since 2006 with three children. He is 44 (Born January 12, 1978) and clearly has an impressive CV; in addition to his two most known jobs, he has also worked for several reputable local and international organizations, including the United Nations (UN), from a young age.
Not bad, for someone who never planned on going to university. The attitude towards university around him was the embodiment of the "We don't do that here" meme. You were lucky to complete high school and then you could join the local workforce and carry on with the slog of life.
The thought became even more unlikely after he had joined a great school, St Joseph's Boys in Kitale, after doing well twice in the final primary school exams, but still had to drop out of St Joseph's because his parents could not afford the fees.
"I had to quit and look for alternatives," he says. "Then it dawned on me that I could not do without school, so I had to go to a cheaper school in the neighbourhood."
Moses, a teacher at the second school, was one of the biggest influences of his life, and was the one who first pointed out how he stood out, and not just because he is 6 foot 2. "He would say things like, 'When you go to campus, this great stuff is going to happen to you. You're easily identifiable from the crowd and that's a sign of leadership.' And I would be like, 'What are you talking about? I'm not going to campus, I'm just doing my thing'," he says.
Inspiration
"I haven't met him in a long, long time, but I've never forgotten. The things he said about me, most of them have come to pass, so I always remember him. I ask about him, and I think I owe him big time," he says.
Moses reminds me of British singer, Adele's teacher, who recently surprised the singer during a pre-recorded concert special. "Do you know Adele?" I ask him.
"Which Adele? The African one or the British one?" he asks. I clarify the British one and just as I launch into the story of the reunion with her teacher, he surprises me by saying he saw it.
That very definitive experience was one of several significant ones in his life. Botswana was another. There's this really colourful mat he has. He got it from Botswana in his younger days. It is his most prized possession.
In the early days of his career, he was focused on environmental issues and human rights. The NGO he was working with took them on a couple of trips meant to transform the way they thought and viewed the world, and this time, they were in Botswana. It was in 2005.
Thirty of them had to spend the night out in the open, in a gorge similar to Hell's Gate in the middle of nowhere, with a mat and a blanket as their bedding with no supper, 100 metre away from the next person. It was a place where people went to sacrifice animals, hunt, there were wild animals, particularly buffaloes, elephants and wild cows.
"Colin, the person who was speaking, said, 'Once in a while, you might come across a snake. But you're going to be on your own until we meet tomorrow morning at 8 o'clock.' So we were scattered, and the only advice they gave us was, 'If you hear something strange, if you feel like there is a dangerous animal coming your way, don't move. Stay put and don't move.' It was the longest night in my life!" he says with a laugh.
"I don't know whether I was dreaming or whether those animals came, but every time I closed my eyes I could hear them. For 12 hours, until 8 o'clock the following morning. And the sun rose, and we were still there," he says in a tone that makes it sound that he is still relieved to have survived.
Everyone was told to carry their mat and blanket back home with them, to their home country, as a keepsake.
"Nothing had happened to us, we had survived, alone. So it became a symbol of victory for me. Confronting your fears and all the things that we went through in that particular space," he says.
"You learn that you can go through almost any experience and still come out victorious. And a lot of the things that we fear are not necessarily true. Or the things that we fear will happen most likely won't happen. So confront your fears and live your life."
He shows me a picture of the mat. It is one metre by two meters, looks like it's made out of sisal, but it's actually made of recycled plastic material, with beautiful and bright colours that blend softly blend into each other in a way that imprints itself in your memory.
"I call it prized because it goes deep to awaken my consciousness around who I am, or who I could end up being if I choose to," he says.
2017 election storm
The events of 2017 were, unsurprisingly, one of the most defining moments of his life. He has always maintained that his ouster from the electoral commission was premeditated and unfair. He has no regrets and maintains there was no fraud.
His assumptions about life and the way the world works were shaken to the core. He decided to take a break to reflect, kept a low profile and pursued other things like private work, providing advisories in public sector management and also went back to school.
"One afternoon, I was doing my usual assignments and I got overwhelmed by deep thoughts about what had become of me. That's when I realised I had become kind of mentally traumatised, but I hadn't realised it until that moment," he says.
He saw a doctor friend who was a counselor. That week, he travelled out of the country and was reading a lot about life. On his way back to Kenya, he had a moment where he felt an intense sense of freedom.
Before he left, he had been wearing caps whenever he went out, but the epiphany had been so strong he decided to get rid of all 18 of them. "I saw them as a symbol of constraint from living a free life," he says.
So he steeled his nerves and stepped outside, feeling free and faced the world head on.
"I saw a lot more positive energy coming my way and I started feeling like, 'This is the thing I had missed for so long.' And I finally had it. So my outlook towards life changed dramatically at that particular point.
"I learnt a lot of the things we fear in life don't actually happen. The world, I think, is a much better place than we ever imagine, and having the courage to confront your fears in itself is powerful, and gives you freedom. That is how I live, to date. No caps," he says.
During the break, he took up farming in Trans-Nzoia, which he still does to date. "You see, places where you find freedom," he muses as he scrolls through pictures of him with his cows and goats, and standing in a field of oats.
Out there in the greenery was the perfect environment to reflect and unwind, and he came back with a renewed sense of who he was and how he wanted to live.
Mental freedom is high priority to him now. It doesn't matter what job he does, it only matters he maintains that sense of freedom.
"I am not my job, I am Ezra Chiloba. That's me," he says.
Related Topics