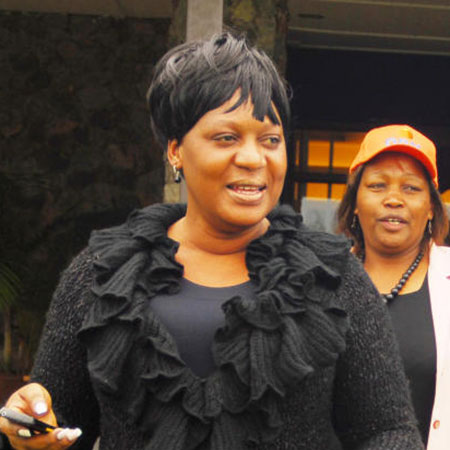 In 2012, you were denied a clearance certificate to vie for the position of Nairobi County Senator in favour of Bishop Margaret Wanjiru. How did you feel?
That nomination process was very painful and one of my lowest points in life. I was pregnant and had given it my all, having campaigned for three years. I was, therefore, shocked to realise that the certificate had suddenly been given to someone else.
What was the excuse from your party?
They said that this was due to regional balancing. This came as a shocker as I had never heard of this before.
Did you feel betrayed?
I felt betrayed since I had given it my all. But I had to deal with it. In fact, that experience led to me writing a book that will be released soon. The title of the book is No Time for Tears.
Margaret Wanjiru has now jumped ship, do you feel like it was a stab in the back?
There is nothing wrong in people changing political parties, but I have problems with people who don't stay true to themselves. I just find it hypocritical. It's like staying in a house for so many years, then turning around and declaring that the house wasn't good.
The way events unfolded, I was the victim. What is laughable about it is that someone who should have stood by me is now playing the victim. I even went out of my way to campaign for her. The best thing she could do is not dig up that matter.
This personal sacrifice, was it worth it?
Every decision we make is valuable. I have learnt that you should not expect anyone to pat your back in politics. If your conscience is clear that you are doing something good, then it is worth it. I'm at peace with myself. I did the right thing. I go to bed feeling peaceful about it. I think there is a second chance.
How did you recover from the disappointment?
When I joined politics a few years ago, I learnt that you don't have to mourn for long. Politics is fluid, not static. There is no time for tears. No one has time for you. I went out of my way to campaign. There were times I would wake up thinking that I was on the same page with everyone about certain things, only to discover later that meetings were held at night and dynamics changed.
Are allegations that you once battered your husband true?
When I went into politics, I didn't think that the media was kind to women, so I totally blocked them out. As a family, when we heard the rumours, it was the lowest point for us. We even went to court. I was seven months pregnant then and I almost lost the baby because of the shock. The trauma was such that I almost resigned. I cried a lot and even ended up in hospital. Later, one of the media personalities told me that it happened because I was so quiet. Since then, I have been very vocal and interact a lot with the media.
What are some of the greatest lessons you've learned in politics?
The key things I have learnt include balancing political interests, handling the political class in and out of Parliament and weighing political statements. I also learnt how to shed off my parliamentarian attitude to being part of government.
Are you still going to seek an elective post in the next elections?
Yes. I don't think I have reached my political peak. I don't want to be there till another generation wants to overthrow me. I want to be there for maybe another 15 years.
Related Topics