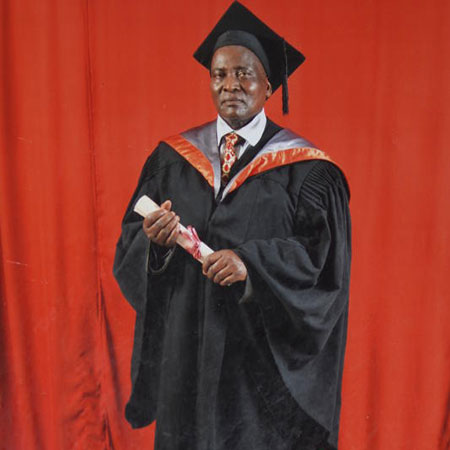 Reknowned playwright and drama icon and a lecturer at Kabarak University Barnabas kasigwa after graduating his master's degree at Kenyatta University. Kasigwa died on August 17, 2014. PHOTO: KIPSANG JOSEPH
Drama was Barnabas Kasigwa. Barnabas Kasigwa was drama.
And the Kenya National Drama Festivals were never complete without Barnabas Kasigwa, whose curtain call off the stage of life is now for good, following his demise at the age of 66.
"He was an institution unto himself, the face of Kenya's drama and the father of lovers of literature. He was the ultimate precision of art." Those are the words of Kamuncho Kiburi, a Nakuru-based lawyer and former student on the condolences book, as mourners paid tribute to the veteran playwright, author and lecturer at Kabarak University.
Kiburi was among hundreds who thronged the thespian's home in Olive Inn Estate, Nakuru County this week.
Kasigwa defined drama simply as 'conflict of ideas.' The more the conflict, the better the drama and perhaps this is what made his plays, all original ideas, scoop all the awards since 1987. Kiburi vividly recalls how they reached the zenith of the 1987 drama festivals in Meru.
From Meru, Kasigwa caught the eye of retired President Moi, who took him to Kabarak High School as an English teacher and later Literature lecturer at Kabarak University, where he taught South African and Caribbean Literature and Classics.
Different scripts
Even as hundreds of mourners who visited his widow held back tears, like Kasigwa's different scripts, each had a different story on him. Even those who cried, laughed at revisiting his comedies, or kept silent about the man who tutored the 'who-is-who' in the arts.
For Fredrick Ngala, director of music at Kabarak University, Barnabas Kasigwa "was a complete continuum of eloquence."
Says Ngala: "He was an excellent playwright, a drama director, producer, poet and teacher. Drama festivals were incomplete without him since the 1980s."
Kasigwa's award-winning plays entertained the president when Ngala served as Director of the Presidential Music Commission.
Kasigwa's wife, Edith, described him as a loving and caring husband who was committed to his work and family. At home, he was husband and father, with the dramatist nowhere in the picture.
Dotting father
"He could spend the whole weekend with us at home. He was fun to be around and loved his children very much. We went shopping together, and he gave us all we wanted," recalls Edith, adding that he could jump out of bed in the middle of the night and disappear into his study.
"Writers do their best at the wee hours of the night, when the world is asleep, when dramas of ideas float and bombard you, and that is the perfect moment you should rise to the occasion before they evaporate," Kasigwa would tell her.
Edyson Mukisa Kasigwa is a third-year electrical engineering student at the University of Nairobi. The 22-year-old recalled growing up reading novels and speaking English as one of his dad's toughest rules. The last born of six children attributes their success in books to tough academic upbringing.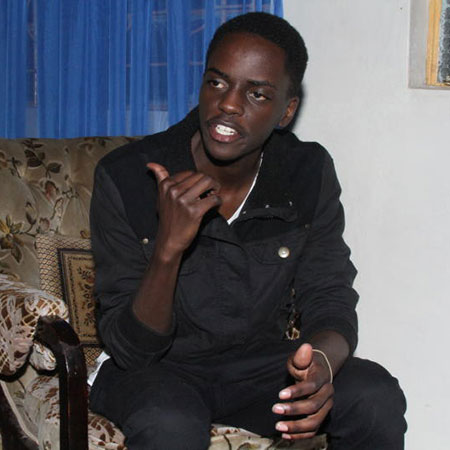 The son of the late Barnabas kasigwa, Edyson kasigwa during an interview with the standard on August 20 ,2014. PHOTO: KIPSANG JOSEPH
Never mind none took drama like their famous father, who provided them with all they wanted.
His former student Alex Kiprotich, The Standard's Nakuru Bureau Chief, wrote on his Facebook page: 'Some teachers leave a permanent impression on you, providing you with memories and lessons that last a lifetime...I can vividly remember the play "Joseph and the Amazing Technicolor Dream Coat"...RIP.'
Related Topics