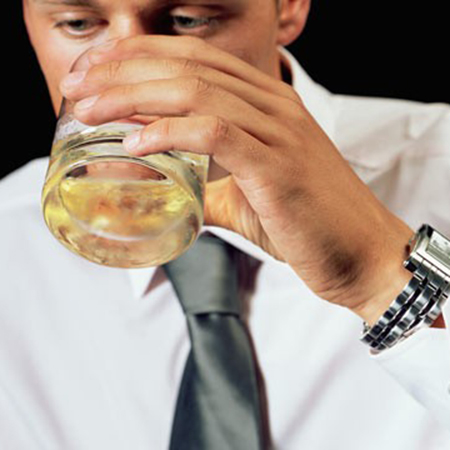 Two weeks ago, The Nairobian ran a feature on different types of women and their choice of booze, right down to specific brands they may pick.
Well, the women demanded a right of reply and have hit back with their take on what that drink in man's hand says about him.
1. The black liver diehard
This category swills hard stuff like Country Man, Sacramento Spirit, Tornado and Yokozuna in dingy shebeens where sellers answer to less-than-glowing monikers like 'Mama Pima.'
The black liver drinker is a quarrelsome skunk, one given to noisy rants like "tutakunwya hata mkizima taa!"
He is the 'drink-and-let-die' harum-scarum you are likely to read about and see on TV whenever there's a report on alcohol poisoning.
He's that blind guy in the general ward of a public hospital, that is if he's lucky to escape the body bag.
You'll meet him lurching and reeling on his way home in a drunken wobble, shouting his voice hoarse with off-pitch renditions of circumcision songs, all the while reeking of a suffocating cocktail of rancid notes, ranging from stale urine, to days-old vomit.
His face is an awful artwork of bleary red eyes and is pockmarked with old and fresh scars from unprovoked fights, drink-fuelled tumbles and faint attempts at dodging his Sh50 bills.
Or maybe, it could just be the aftermath of an altercation with the missus that got him on the wrong side of a 'panga' for selling the family's prized possession, a gleaming Chinese radio, for a tot of Mama Pima's poison.
He is forever broke – physically, spiritually and financially!
2. The colleger
Blue Moon, Popov, Kibao vodka and Hunters Choice are collegiate drinks.
Their affordable fumes swirl in the heads of second-year college students caught in heady tightropes and unbalancing juggles between HELB loan applications and pleasing the ceaselessly demanding campus Miss Babes.
The drinks' lift off have no countdown to vertigo. They kick in immediately, thrusting drinkers into a state of instant 'high.'
It's just what the doctor ordered for the campus student trying to 'de-stress' after disappointing exams or 'quelling police riots' in the streets over the detention of one of their own. It's also the drink of lowly, upwardly mobile, freshly-employed who could just be graduating from 'changaa.'
3. The shagz-modo
They will invite you to some half-mabati, half-timber joint at Dagoretti Corner or a Mugithi club along Thika Superhighway, where they sip from brown bottles.
But your invite is more ceremonial than significant. Half the time, they'll barely notice or acknowledge your presence, as they froth at the mouth jabbering on about money and how to seal deal for a 50x100 'Kamugunda' in King'eero.
Their fashion sense betrays their village mentality.
You'll find them sporting faded Kenyatta leather jackets and brown cowboy boots, into which they tuck Savco 1.5 Freezer jeans.
4. The hunter
He has been drinking Heineken for six hours straight without the slightest hint of a slur in his speech.
If he's also the one buying for his six friends and is chatting up every babe in the pub, including the waitress, adjust your antennae sister, he's a fluttering red flag. This man is looking for a no-strings attached, 12-hour type of relationship.
5. Mr know-it-all
He's most likely your typical middle-class, white collar type of guy. You'll find him nursing commonplace liquor like Jameson, Black Label or The Famous Grouse.
If he is not talking about his past escapades after one too many, he'll be showing off as a connoisseur of fine drinks with tiresome tales about premium drinks and how long it takes them to 'mature' or create signature tastes.
He may even flash out pictures of a treasured, unopened bottle sitting on a shelf in his house...which will be uncorked when and if Arsenal gets its groove back!
6. The metrosexual
He mostly hangs out at Blankets and Wine and 'koroga' festivals. He's the type to attend Fashion High Tea at Zen Gardens or Windsor.
He has an impeccable savoir faire when it comes to the choice of wine and music.
If he's note twirling a glass of Mulderbosch Faithful Hound red from South Africa, he'll be in a deep discourse on literature, film, or other arts, or sampling a Lewis Cabernet Sauvignon from Napa Valley, California. This guy is even versed in interior design and landscaping.
Be warned ladies, if you can't tell your Shiraz from Merlot or only read 'Eve' pullout every Saturday, stay clear, since the only thing you'll be served here is intimidation and cold silence!
7. The groupie
Ever met a man who does not know what to order in a pub?
The type that will ask what you are having and finally suggest that you buy a quarter bottle of whatever you prefer so that you end up splitting the bill?
These types are mostly broke butts and will abandon you and join a new group of friends as soon as the bill kisses the three-digit mark. On some occasions, he may request you to pay the bill, promising to refund via M-Pesa, which of course just won't happen.
8. The snob
The snob will have his PA call his favourite watering joint to reserve a corner table.
A bottle of Moet & Chandon in a bucket of ice cubes should be ready by the time he walks in with his entourage of equally snobbish and snotty charlatans...in very dark sunglasses even at 9pm!
He will spend half his time taking selfies with his friends holding the bottle of whatever expensive drink he's having.
He at times drifts off from the conversation at the table, pretending to be texting a business associate, while in reality he would be uploading the photos he's just taken on his Instagram page.
9. The worldly wise
A man who sips dry brandy is to be respected. Brandy denotes wisdom, authority and being in control. This is what most literal gurus (and some refined journalists) thrive on.
Unfortunately, most of these men just want to sit at the counter and reflect all night, endlessly coming up with new ideas for a book, piece of poetry, column or newspaper review.
They will occasionally engage the waiter via sign language requesting for two more tots.
Photo: Courtesy
Related Topics