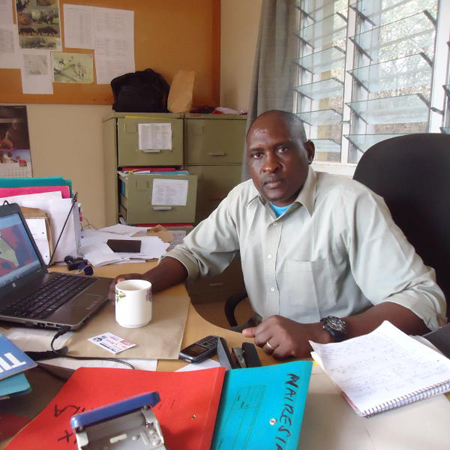 Samar Ntalamia former fleet manager at Imbirikani hospital
Two years ago, Imbirikani was a thriving hospital town, known as the place with a facility that 'cured' Hiv/Aids.'
Word was that when a patient was steered in on a wheelbarrow, too sick to hold their head up, in three weeks, they would be back on their feet, skin gleaming, muscles rejuvenated, the debilitating disease gone.
Set on 10 acres, the Imbirikani Hospital had 24 huge modern buildings, several well-equipped laboratories, rooms for hundreds of patients, a fleet of 30 vehicles, including ambulances, an on-site petrol station, a 4,000kVA High voltage generator and solar-powered electricity in case of power outages.
The hospital had more than 40 permanent medical staff and 120 support staff.
"Here is where people used to come to get HIV cure," says Jacob Mbokola, a hotel owner in Imbirikani, who swears that some of his relatives visited the facility and got cured.
"I had my aunt from Makindu come here. She was so weak that she could barely lift her head. She was on her deathbed, but within 10 days, she was discharged from the hospital. She could walk, work and is still alive, five years later.
"It was an amazing transformation, and the best part is, they didn't charge her a coin. The hospital had ARVs that the government didn't have then," says Mbokola.
Another resident, a cheerful rotund lady in her 40s who runs a groceries stall, says she got infected in 2002.
"My husband died the same year we got diagnosed with this disease," she narrates in Kiswahili. "I was left to take care of our four children, but then I also started getting sick, so my relatives took away the children.
Not on Aids medication
In 2004, when the hospital was opened, they came for me. By then, I didn't exactly know what they wanted from me, but I was admitted and put on medication," she recalls.
She claims that within one month, she was back on her feet, and the very next month, she took back her four children, who had been living with relatives.
Although she claims she hasn't been tested of late to find out if she still has the virus, she insists that she is healthy and that apart from periodical colds, she isn't on any Hiv/Aids medication. Samar Ntalamia, who was the fleet manager for Imbirikani Hospital, says the whole operation gobbled up a whopping $7 million (Sh616 million) per year for nine years.
"During that duration, Imbirikani Hospital spent Sh5.481 billion on free treatment, not only on HIV/Aids, but any medical condition," he says.
The operation, he says, was funded by American philanthropist, Ann Lurie. "There were tens of motorcycles and physicians who would go up to 60km into the interior to check on patients who had already been treated.
Some critically ill patients who required operations would be airlifted to Nairobi Hospital and all bills footed by the hospital," reveals Ntalamia.
Area chief Joseph Ntoupo says the hospital was the heartbeat of Imbirikani.
"Businesses were thriving and residents had American standard free health care. I am so sad because as the area chief, I saw the first patient walk into the hospital, and I also saw the last patient walk out when the facility was closed," says Ntoupo.
The nearest hospital, he says, is now in Loitoktok town, about 56 kilometres away.
As he shows me around what used to be the hospital, the maze of crumbling walkways is a desperate sight. Lawns are overrun by wild grass, and where ill patients sought refuge and life, wild cats have taken tenancy.
The chief does not, however, know the real reasons behind the closure of the hospital.
A village elder, who used to run a small 'chai na mandazi' hotel, and was also treated for HIV says: "We heard there was a wrangle between the donors and politicians.
Local leaders wanted a way to get into the operation and the donor put her foot down. She said no way would she allow politicians to interfere with her work," says the elder.
He says he was diagonised with HIV in 2005 during a routine checkup for a persistent cough. He, however, admits he has never gone for any medical checkups since the hospital was closed but insists that he feels fine.
Gladys Naserian, who aspires to join university soon, says once the hospital was closed, Imbirikani was thrown back into the dark ages.
"When the hospital was closed down last year, Imbirikani died," says Naserian, who aspires to pursue a degree in commerce. She shows me weather-beaten ruins of several hotels that now lie crumbling.
Almost 50 self-contained residential houses also lie abandoned, slowly succumbing to the elements of nature.
On the road heading to Imbirikani , there are still several 'H' road sings, but the hospital is no more, the once-thriving township is a lifeless ghost town, a few stray dogs basking in the sunshine are the only signs of life.
The airstrip that once enabled medical evacuations is overrun with scrubs and the runway faded.
Related Topics