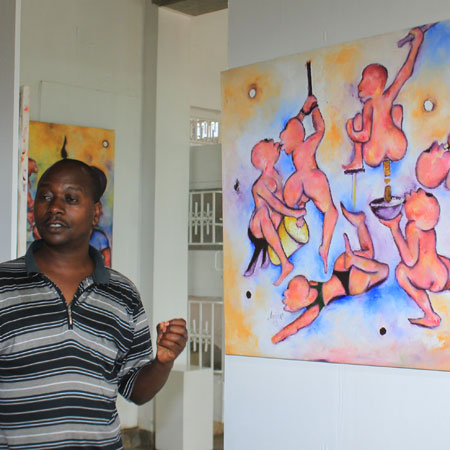 Shine Tani, left whose works cost Sh300, 000-Sh700, 000
When Simon Njenga decided to ditch acrobatics for paint and brush, he did not abandon the performing arts completely; he simply transferred it to canvas. In his paintings human figures express themselves through acrobatic moves.
Coming from Ngecha in Kiambu County, Njenga did not lack motivation to make his switch. Ngecha is home to renowned visual artists with interesting names like Wanyu Brush, Sane Wadu, Chain Muhandi, among others. Soon he lost the name Simon Njenga and acquired a new one: Shine Tani.
When he was an acrobat, people used to say he dressed like shetani (satan) hence the brush name Shine Tani- who later moved to Banana on the outskirts of Nairobi where he has been the director of Banana Hill Art Studio since 1992.
With time, he abandoned his trademark acrobatic style of art to experiment with other styles.
"Many of my fans have been asking why I stopped doing acrobatic paintings so I decided to revisit the style," explains Tani whose last acrobatic painting exhibition was in France in 2000.
For six months – May to October – Tani relocated to a secluded area in the Rift Valley where he set about working on a series of paintings, which he titled Artist's Acrobatic Moves. They are a series of 23 oil-on-canvas paintings currently being exhibited at the Banana Hill Art Studio from November 9 through December 6.
Tani's artworks (and prices range between Sh300,000 and Sh700, 000)feature mostly nude figures contorted in various acrobatic moves, some not humanly possible.
Asked about his preference for nude and semi-nude images, Tani says, "modern dressing in Africa is only as old as the colonial adventure. Growing up I found my elder brothers wearing only a large shirt and nothing underneath, and that is how they went to school."
It would also appear that Tani's artwork passes messages through shock and awe. Such is the graphic nature of his paintings. The most expressive piece features, among others, a woman sitting on a traditional milking stool with a bucket between her legs. She is 'milking' a man's genitalia. The man being 'milked' has his hands cuffed. Another image in the painting has a man on raised ground with a woman below him collecting his excrement using a bowl.
This painting is titled Mine is Best. Tani explains that the painting features a man with two wives. "Whenever they meet they try to outdo each other narrating how well they 'serviced' their man," he says. Using 'bold' strokes of his brush Tani exposes the uneven nature of polygamous marriages.
The other interesting piece is titled Transporting Love. In a classic example of art imitating life, the artist has transposed news making events to canvas.
In the recent past news pages have been awash with disturbing reports of men and women engaging in sexual acts with animals. To Tani's artistic mind these people are simply transporting their 'love' from humans to animals.
In Mind your Business Tani has human figures going about their 'normal' business.
"There are people who make it their business to know what other people are doing," he says. "I am simply asking them to mind their business. There is a certain class of people who think with their behinds!"
Tani has indeed reintroduced his acrobatic act with a bang.
Related Topics