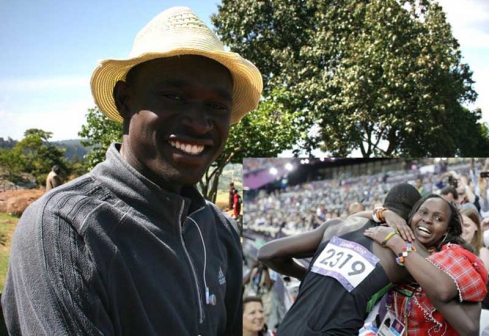 Two-time Olympic 800 meters champion David Rudisha's poor run of form, especially in the Diamond League in Shanghai (May 13) and Stockholm (June 16) has led to many tongues wagging.
The once invincible King David may be dealing with challenges at home and this could explain poor performance.
It is said that all is not well at home. Our sources reveal that there could be a disagreement in the family, following a visit by Rudisha's wife Liz Naanyu to Nigeria for prayers. She had reportedly visited the West African country to seek blessings from a controversial preacher. This was not received well by Rudisha who opted to leave his matrimonial home in Eldoret.
When The Nairobian contacted Naanyu to clarify whether her trip to Nigeria was the cause of a family disagreement, she was non-committal and accused the writer of meddling in her private life.
"Why do you always want to publish negative stories about our family? This is a private matter. Are you plotting David's downfall?" she asked angrily.
"Hata nikienda wapi, mniache tafadhali (It doesn't matter where I go, please leave me alone)," she said before hanging up the phone.
A fellow athlete intimated that Rudisha and his wife are only putting on a show during public functions to hide their differences.
The athlete is alleged to have moved to Iten. Naanyu's visit to the West African nation follows hot on the heels of 5000 metres athlete Mercy Cherono's visit to controversial Prophet T B Joshua. She had gone to see the man of God for blessings and divine intervention following a string of injuries.
Sources close to Rudisha's family claimed that the athlete, on realising that his wife had travelled to Nigeria, got spooked, believing she had gone for charms and black magic to 'tame' him.
A source close to the athletics champ observed that Rudisha has linked his poor performance to the wife's Nigeria visit.
"He is paranoid that his poor start in the athletics calendar and the ongoing Diamond League races have been influenced by black magic that may have been cast his way," claimed the source.
"Even on Facebook, you will notice that they only upload pictures that either parent is with the children, but they never pose together as husband and wife," she added.
A resident who neighbours their palatial Eldoret house in the posh Elgon View estate, claimed that the champ is rarely seen driving into the compound.
"It is uncommon for the couple to stay apart, especially when Rudisha is training in both Eldoret and Iten. He has left his house and we have been made to understand that he is in Iten," explained the neighbour who only identified himself as Amir. The neighbhour nonetheless dismissed the allegations of a fallout between the couple, warning that the rumours could ruin Rudisha's career.
Attempts to contact Rudisha proved futile as his phone went unanswered. Text messages sent to his phone to clarify the story were however delivered, but without any response.
Rudisha and Naanyu tied the knot in Kilgoris in 2010 in a Maasai wedding ceremony, soon after he was crowned IAAF World Athlete of the Year.
Related Topics