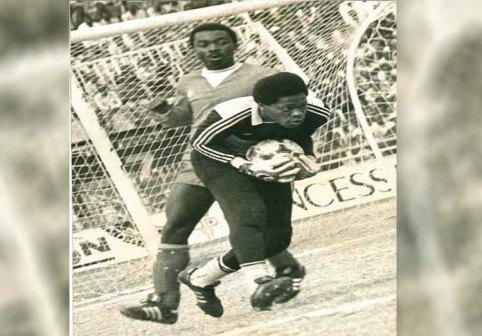 It is said that in Africa, records are kept orally — then passed from one generation to another.
Nothing is documented the mzungu way and kept in libraries for posterity. Which is why whenever an elder dies in Africa — it is assumed — his records go with him. Now, you understand why story time, with boys and girls, gathered around the fire after sunset, was a revered moment.
Back to football. Missionaries and sailors brought football to Kenya many decades ago. Interestingly, many myths have been told about this game, one that many Kenyans have come to love.
One of the earliest myths involves one Elijah Masinde. Masinde was born in 1910 around Kimilili area in former Western Province. Although he was historically known as the founder of Dini Ya Msambwa, few people outside his native Bungoma district remember his prowess as a soccer player. Villagers say Masinde could do strange things, and would at times disappear from the face of Earth for many days. He never disclosed his whereabouts, and if he did, he would talk about visiting the gods.
Masinde was a talented footballer — he was in the Kenya Gossage team that played against Uganda in 1930. It is alleged that once, during a local football tournament in Kimilili, he kicked the ball so high it disappeared into the clouds — the ball, they claim, never fell back to Earth. The crowd waited in vain, which is understandable, given balls were few at the time, and a whole village would have only one ball .
Now, since the ball went into oblivion, the 'tifrii' (referee) had no option but to call off the match. That feat did not go unnoticed, Masinde became a marked man by the authorities. Nevertheless, he started mobilising the people to rise against injustice in society. Elijah Masinde died in 1987, a broken man after several stints in prison and detention. But his legacy as the one who kicked the ball 'to the gods' and as a freedom fighter lives on.
The next myth is about Elijah Lidonde. The man is said to have had a lethal right foot — he tore so many nets with his powerful shots that fans lost count. It is claimed that his shot once hit a goalkeeper, tore open his bowels and pierced the net like a bullet. The authorities decided to ban him from using his 'lethal' right foot anywhere near the 30-yard line.
We grew up listening to tales of how Joe Kadenge could dodge his opponents only to be left with a helpless goalie. Instead of scoring, he would tell him, "Wewe nimekusamehe," and kick the ball out. This he would only do after his team had scored enough goals, and all that remained was to entertaining the crowd.
Then there is this story about Ben 'Breakdance' Oloo, who played football back in the 1980s. Oloo was a left-footed dribbler, and he was gifted. Each time he got the ball, with several defenders after him, Gor Mahia fans would shout at him chanting, "Ben kanyo lach kalakala," meaning "Ben that space is wide enough, just pass through." Surprisingly, he sometimes dodged his way through three defenders to the delight of cheering fans. I t was claimed that Oloo applied glue on his boots to hold the ball.
Meanwhile, Mahmoud Abbas was a flamboyant goalie with Harambee Stars. Myths abound on his exploits and extraordinary achievements. Strikers alleged that it was near impossible to score a penalty against him because he often transformed into a huge 'monster,' which scared opponents. The monster, it is said, covered the whole goal leaving no space.
But the craziest myth is the assumption that Abbas scooped all trophies that came his way whether local, regional or continental. The truth is that Abbas never won any trophy beyond the local league and Cecafa tournament. He never played in any final of a continental tournament.
Related Topics