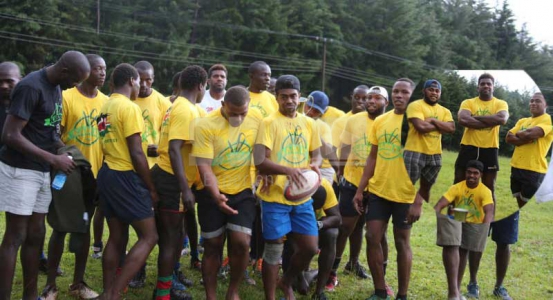 "We play with our hearts as rugby is no longer just a physical game, it's more of a calling," says the former member of the province level rugby of Fiji who was once called to the Fiji 7s national team but failed to show up.
"Rugby is a game of wits and team work. We might have injected some tact from Fiji into Kabras, but Kenya too has experienced players you cannot wish away. In my opinion, the level of competition in the Kenyan 15s is the same as in Fiji but on the 7s, we are a bit advanced," said Apenis, who confessed that he supported Kenya against Fiji during last month's Singapore 7s finals.
His sentiments are echoed by Kubu the full-back for Kabras. The 22-year-old says Kenya offers him a better chance to showcase his skills.
"Unlike in Fiji where tact alone cannot earn you a position without being physically built, in Kenya, I got an opportunity to play," says the 67-kilogrammes, five-foot matchmaker Kubu, who is named after retired Fijian international, Jone Kubu, who was his uncle. "It has been all team work and self-belief," he adds.
Meanwhile Jone Mavuso says that Kenya has unique supporters who keep him on his toes in every game.
He is happy with the support, especially at their Kakamega Showground home venue.
"My best moment was avenging our home defeat against Impala in the finals, when victory really counted. The game is competitive and it's team work that made us win," says Mavuso, a scrum-half and sometimes fly-half who started playing rugby at the age of nine.
Another Fijian in the team is Racagi who started playing rugby at the age of 10 in elementary school, and appears as hooker for Kabras. He says Kenyan players are very good:
"We struggled all the way to win this cup. It was not easy," he told The Nairobian.
All the four Fijians were ready for another contract with the West Kenya Sugar Company sponsored side having signed a one-year contract last season.
Mike Bishop is the coach of Kabras, who join the club after realising that it was a capable side.
In August last year, the Australia-born tactician first sat to offer tactical advise to the slightly over 60 men who made up the Kabras team.
Kabras have not performed so well in the sevens circuit, though the club insist this is a misconception.
"To begin with, we were nowhere in the sevens when we won the bowls in Masaku, Dalas and Driftwood 7s, besides bagging a plate in Prinsloo 7s. That's no mean feat for a three-year-old formation," said Ogot.
Busia governor Sospeter Ojaamong has invited the club for a party in the county on May 14 to celebrate their victory.
Related Topics