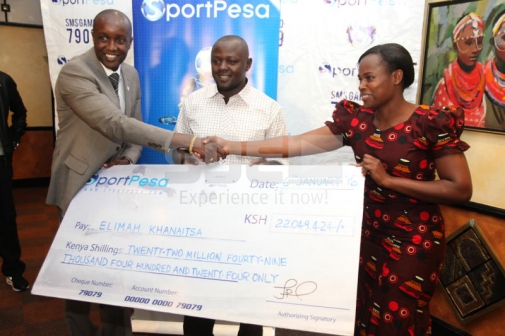 The tide of football bettibng is fast rising across the country in a most unprecedented fashion, with many seeking the new craze as a substitute for employment. It is not uncommon to walk itno a cyber café to find that nine out of 10 users are on their preferred betting sites, trying to predict scores that could see them become instant millionaires. Kenya Premier League CEO Jack Oguda told The Nairobian:
"Most Kenyans only knew of casinos, but things have changed a lot today with the advent of technology. Kenya has been a virgin in the betting business, but if well used it will be beneficial to the whole sport. We are trying to come up with some measures to avoid possibilities of match-fixing through these betting companies."
Meanwhile, the story of 27-year-old Elimah Khanaitsa, who bagged a staggering Sh22 million, is still on everyone's lips.
Such tales are pushing a hopeful lot of risk takers to making bets for a living. Many youths, even in remote villages of Kerugoya and Kanyamwa in Nyanza, have registered with at least one betting company.
While unemployed youth see this as a source of employment — though one is not assured of a salary — worrying is the latest trend where young men (and women) in formal employment are ditching their jobs to dedicate their entire lives and time to betting.
Odhingi Kuonbel is one such person. He spoke to The Nairobian about his new job, betting, after quitting employment two years ago.
Bookies are the only 'employers' who need no academic qualifications, skills, and do not need to know your name or see you at work. And when it comes to pay, they pay you pap!" said Odhingi, who has a wife, children and a few relatives who depend on him. Two years on, he does not regret the decision to ditch employment for betting.
"Betting only needs some small capital, like any other business," he says. According to him, each day has sure bets, games that will either obviously have goals or a winner. Odhingi said that there are always games to bet on, including the Chinese and women's leagues which are unknown to many.
"Take a hundred bob for the early games. A correct bet gives you 700 bob. Do not withdraw that cash. Place another bet, and you get another Sh2,000," he said.
To him, investing Sh10,000 can give returns of between Sh200,000 and Sh300,000 within a week, translating to almost Sh15,000 each day.
"Who can pay you Sh10,000 for just sitting down for 90 minutes? Only betting makes that possible," he said.
At a pub along Mombasa Road, 34-year- old Simon Ndegwa is having his drink while watching an FA Cup match. In his hand is his mobile phone, logged on to a betting site.
"This thing has a thrill. I wouldn't say I am an addict, at least I don't want to imagine that I am. It's like taking tea, we take it each morning, but that doesn't mean we are addicts, are we?" posed Ndegwa. He disclosed that he rakes in about Sh3,000 each day from betting.
Many of those who bet do it with their heads, not their hearts. It's the money they want, not which team should win the league.
"I can't bet on my favourite teams. I get too emotional. So, I just bet on other games after analysing them," said Ndegwa.
At Embakasi near Taj Mall, there is a betting shop fitted with computers and betting machines. Here, scores of young men flock every day to play virtual bets, fantasy bets as well as sports bets. The attendant, Nicholas Mutie told The Nairobian that when a local betting company gave him a brochure, he got interested and asked them to fund him.
"They were advertising this thing, asking for people who wanted to have betting kiosks set up for them. I tried it out. In a day, I can make a profit of about Sh3,000 to Sh4,000. The returns are even better on weekends," said Mutie.
As at 10.30am on the day of interviewing Mutie, six people had already walked in. He opens the shop at 9am.
Gambling has taken Kenya by storm with thousands dreaming of hitting the jackpot. At the end of January 2016, 23 companies had been licensed as sports betting operators. Applications from many more firms are at various stages of consideration, the Betting Control and Licensing Board (BCLB) revealed. But there are risks. Take for instance 20-year-old Eric Moseti, a Mass Media student in Nairobi who blew Sh23,000 to what he considered a sure bet. "I had my college fee money, Sh23,000 to be exact, which I placed as a bet. I lost it all! I had to borrow Sh5,000 to bet some more and win back my money. Luckily, I managed to recover the entire amount lost in just three days," said Moseti.
We help gambling addicts
On the internet, there are organisations offering services for those suspected to be addicted to gambling. One such organisation is Gamblers Anonymous (www.gamblersanonymous.org), which started in 1957. The only requirement for membership is a desire to stop gambling.
Gambling rules in developed countries are very stringent. Chinese residents are restricted from carrying with them more than the equivalent of $3,000 while visiting Macau and advertisements of all forms of gambling or betting are prohibited.
Additional reporting by Rodgers Eshitemi
Related Topics