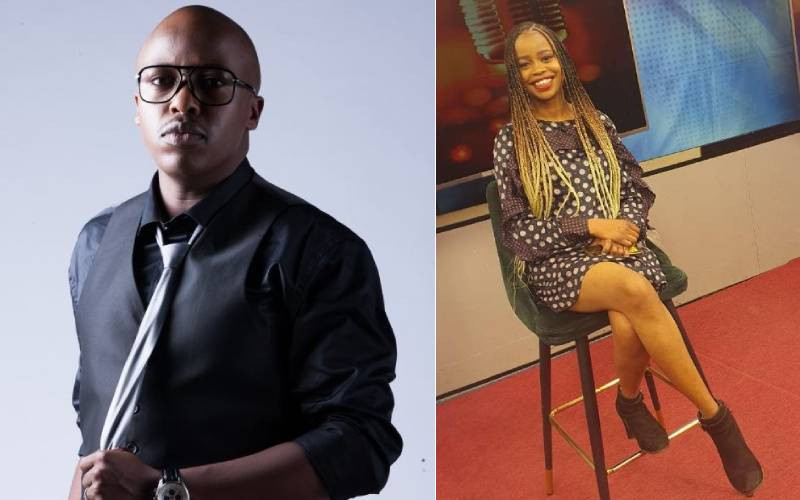 The Kardashian clan is one of the most recognizable celebrity families ever to take on the show business world.
They have all lived under the constant glare of the public and perhaps overshadowed other siblings such as Kate and Pippa Middleton, Jaden and Willow Smith, Beyoncé and Solange Knowles, Gigi and Bella Hadid with their opulence and glamour.
While Kenya is still in its infancy in entertainment, it has also had its share of blood relations, taking a stab at the allure of glory and fame.
Many have kept their family connections a little quieter, and even though they have come out time and again to acknowledge each other, only a few people know that the following Kenyan celebrities share the same family tree.
Madtraxx and Dj Stylez
DJ Stylez is the elder brother of Madtraxx and is considered by many as one of Kenya's pioneer DJs to hit the mainstream jackpot with his Code Red outfit.
While Madraxx did not take the turntable route, he reigns supreme with the likes of Mejja and Kid Kora under the ever-fresh Kansoul group.
The two entertainers suffered a huge blow in 2017 after they lost their elder sister, Dr Njeri Muigai. She was eight months pregnant.
Bamzigi, Kidkora and Lenana Kariba
Bamzigi - a hip-hop star who, a while back, made his highly-anticipated comeback in the lyrical video "Form Ni Gani," has some very famous siblings.
His brother Kid Kora is a member of the wildly- successful Kansoul group. At the same time, Lenana is a reputable actor known for stellar roles in Changing Times and House of Lungula, among others.
Tina Kaggia and DNA
Tina Kaggia made a name for herself at Classic 105 as a mid-morning radio host before switching to 1 FM.
However, many are unaware that the voice-over artist and radio presenter is Dennis Kaggia's younger sister.
Better known as DNA, Dennis Kaggia belted out mega hits during his prime such as Fimbo and the much-acclaimed Banjuka anthem.
In various interviews, the two have emphasized their support for each other and reiterated that they are not only siblings and peers in the entertainment industry but also best friends.
Scott the violinist and Dj Protégé
Scott Mwangi, or Scott the violinist to his legion of fans, is a multi-talented artist who has gracefully performed for the who's who, including Forbes' Person of the Year.
You may not know that the super violinist is DJ Protégé's brother.
Touted as Kenya's top electronic music DJ, DJ Protégé started on campus before making it big with unmatched mixtapes that later saw him form DJ Republic.
Ciku Muiruri and Tony Gachoka
Prolific political activist, strategist, and former KTN talk show host Tony Gachoka is a man of many firsts.
The fiery media personality made a name for himself in the late '80s and early '90s years before his sister Ciku Muiruri hit the airwaves with a bang.
Famed for her Busted segment at Kiss 100, Ciku went above and beyond to carve out a niche for herself in the industry, including as a regular columnist on Nation Media Group's Daily Nation.
Rufftone and Daddy Owen
While gospel sensation Rufftone of 'Mwikhulu' fame and Daddy Owen uniquely churn out music to different sub-sets in the gospel industry, the two are brothers.
Born Roy Smith Mwatia, Rufftone was the first of the two gospel music brothers to achieve greatness.
"The most supportive person was my brother Rufftone, who completely stood by me because my dad was away, working to keep the family going. He was the big brother and he really helped me. He mentored me and my musical journey was inspired by him. Immediately after I was discharged from the hospital, I got saved," said Owen.
Janet and Timothy Mbugua
Former Citizen TV anchor Janet Mbugua Ndichu has a twin brother, Timothy Mbugua.
Related Topics