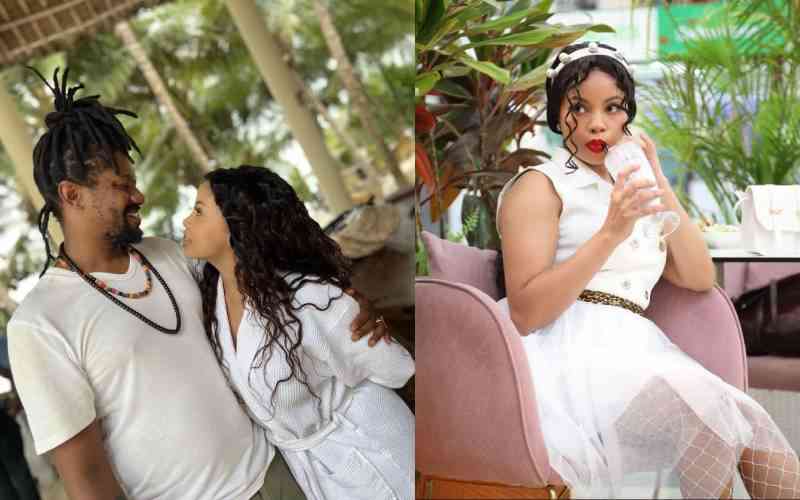 Actress Brenda Wairimu has stirred up social media with a picture on her Instagram embracing an unknown gentleman who netizens believe is her new catch.
In the post, Brenda described the good-looking rasta man as her good friend, but curious followers got convinced otherwise.
"Good friends we have, oh, good friends we've lost...along the way," read the caption.
According to a section of her fans, Brenda seems to have a liking for men with dreadlocks, something the new gentleman and her ex-boyfriend, Juliani, have in common.
Dennito_pon_dis: Unapenda warasta sana
Jessybrown_4179: Brenda loves Rasta congratulations
wakanyoni_nyaga: Let me tell you, this is beautiful!!!
Nismokenya: Sijui nifuge rasta?
Waithiraforeall: Damn gal... Looking good, happy for you
Wanjalalucas: Siri ni Rasta
Since splitting with the father of her child, Brenda has managed to keep her romantic affairs out of the limelight.
Sometime ago, the Selina actress was, however, forced to speak on her alleged relationship with former Tahidi High actor Effie Saint after being spotted together enjoying each other's company on numerous occasions.
Brenda denied dating the actor, clarifying that she was already in a relationship that she preferred to keep private, noting that dating seemed a little different and needed time to adjust.
"I am not dating Ephy Saint but I am dating again," she clarified in a previous interview.
"Being single is well…different. I was in a serious relationship for eight years, if not more. I am slowly learning to date again, but not sure when I will be ready for something serious. I have not been on a date lately (laughs)," she added.
Despite their break up, the former celebrity couple confirmed to have stayed in communication with the purpose of raising their daughter Amor Owino with Juliani describing Brenda as an amazing mother.
"We haven't been together for almost two years, with Brenda. She is a great mother, she is a good human being and she has been helpful, helping me raise my child, understanding. So as a person namwombea mema. Naomba God afungue njia yake in all the things she is planning to do," said the Exponential Potential singer.
Addressing their split in a recent interview, Juliani explained that his relationship with Brenda did not end because things did not work out but because both their lives transcended to different dimensions.
"There's nothing that doesn't work out bro, everything works out for good for those who believe. For my past relationship I can't say it didn't work out… it didn't work out as per that office but it transcended to something beautiful. ," said Juliani.
Related Topics