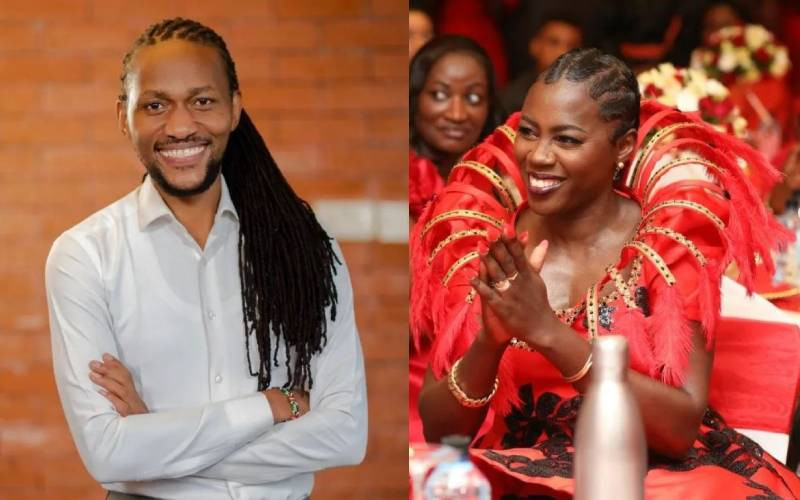 Flamboyant singer Esther Akoth aka Akothee has penned an appreciation post to her musical producer Patrick Mbaru, popularly known as 'Saint P.' The mother of five took to Instagram and said Saint P has had to put with her so many times without tiring.
"The man behind the lioness album Saint P. Let's take a moment and appreciate my producer @saintpkenya Yooo without Patrick @saintpkenya we have no Album. Saint God brought you in my life with A reason. Umenivumilua Sanaa manze," she wrote in part.
Akothee says the music industry is full of malicious people who are never genuine and are always out to bring others down. However, according to her, a few people, such as Saint P, are just trustworthy and always willing to give their best support.
"Never met a human being like you in this industry where everyone is looking on whether to finish you or break you down. They will be cheering as if they mean it but it's all lies," said Akothee.
The singer confessed that she could be pretty difficult to deal with at times but added that Saint P's resilience and love kept him closer to her during a challenging period.
"The spirit of association didn't touch you. You love me for me, with all my ups and downs. Saint when God will be touching and blessing me, may He double yours. My love for you will never go un noticed. May the Lord God Bless you @Saintpkenya," she added.
Akothee recently released her new album titled Sibour Madhako, which means lioness. Speaking about the album, Akothee said that her album's title accurately represents who she is as a woman.
"Sibuor Madhako is who Akothee is. This is a courageous woman who will do what it takes. It doesn't matter how long it's going to take, but I'm going to do what I'm going to do whether the world is falling or thunder comes," she said.
Akothee says the album is special as it will keep her in check following her decision to take the title 'role model.'
"I'm 41, so you don't expect me to be twerking in the pool. I cannot twerk while my children do the same. Let me step up and let Rue do that," she added.
Related Topics