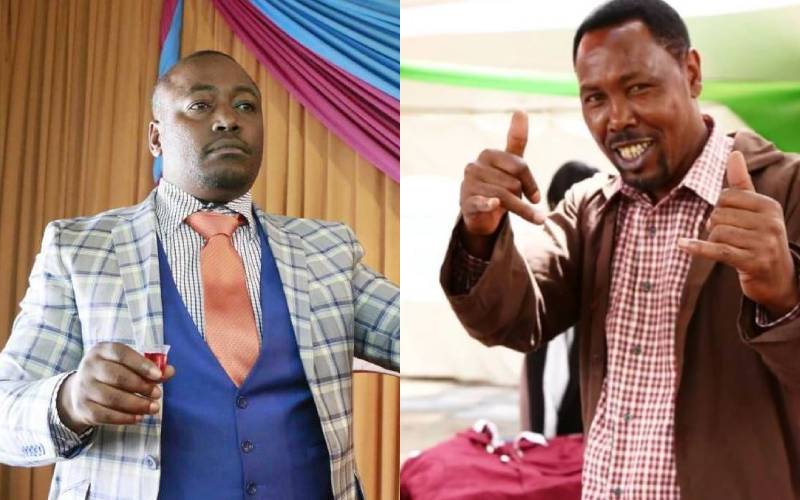 Self-proclaimed prophet Victor Kanyari on Sunday, May 22, prayed and laid hands on former Tahidi High actor Joseph Kinuthia alias Omosh.
In the video shared on social media, the Salvation Healing Ministry lead preacher prayed for Omosh to regain his star and fulfill his purpose.
As the prayers intensified, Omosh is seen falling to the ground as Pastor Kanyari continued to cast out 'demons' that might be holding his destiny.
"I want to pray for you. Nikuombee nyota yako irejee. Mimi napandiwanga mbegu lakininaskia Mungu akinianmbia nikupandie mbegu. I will bless you with some money," Kanyari prayed.
However, netizens were quick to dismiss the prayer session as clout, stating that the actor pretended to have been overwhelmed with prayers and tactfully lowered himself to the ground.
Sindamatiko: Haha and we are supposed to believe this.... Lakini hii ni kali kuliko Ile ya Size 8. Iko na 'kauwongo ukweli fulani'
Krgthedon: Oscar award winners
Fanta._.mello: Kwani Omosh alisahau kuact
Nuria.amina: Kwani ni skit
Blair_mwenda: Why is this funny to watch
Kafuri_: Mtu hawezi ombewa kama amesimama?
Melcie_89: Mbona ni kama omosh anataka kucheka
C_llinsernest: Kizangila hadi anaangalia kama Kuna mtu wa kumshikilia hapo nyuma
Here's the video courtesy:
Hapa Omosh haikosi aligongwa thao zake kadhaa afanyie Pastor Kanyari publicity. pic.twitter.com/aSdWw1yjRm

— Wahinya?? (@Wahinya_Charlie) May 23, 2022
Omosh, who also goes by the alias Kizangila, resurfaced on social media about a year ago after missing from the limelight after his role in the famous TV series.
Speaking in a previous interview, the celebrated actor pleaded with Kenyans for financial help following his harsh living condition and battle with alcoholism at the time.
"I just want a job, even if I will be getting Shh200 a day. I don't mind about class and even if someone decides to start a hotel business where I can sell uji and tea, I am okay with that. There is nothing as hard as waking up every morning and there is nowhere I am going. You see people going to work and coming back and you have nowhere to go. It is very painful," said Omosh.
Not long after his story aired, Kenyans came out in numbers to offer assistance, with some offering him money, jobs, and even a house. However, he was spotted drunk after a night out despite promising to change his life, which angered his fans.
"Nilikuwa na mashida mingi sana lakini bado mashinda haziishangi. Ndo Maana nilikua nakusho kama unajiskia, si ati nilikuwa Nalazimisha. Manze joo mlinitoa kwa shimo na nashukuru sana..Ma bloggers wachaneni na mimi…hata soon nafungua keja na tutachoma mbuzi hapa..so hiyo ndo inafaa kutrend," said Omosh.
The social media sensation refuted claims that he had received more than a million to sort his life out, saying that someone short-changed him.
"I have never tasted a million in my whole life and you guys think that I got a million, please you guys, you are misinformed. I have never ever ever. Would I be here if I had millions? That's a lie. The truth is I never got a million. But one thing is certain. Someone stood by me," said Omosh.
Related Topics