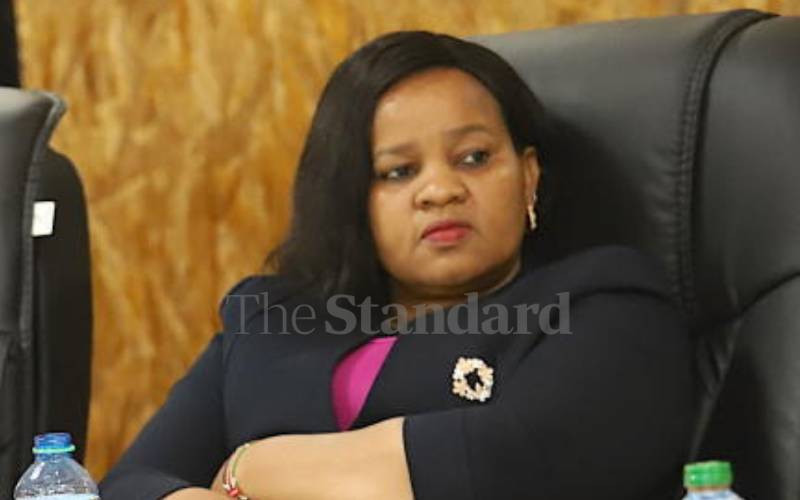 National Assembly Departmental Committee on Justice and Legal Affairs Committee has pushed hearings for IEBC Vice Chairperson Juliana Cherera (pictured) to 4pm on Tuesday, November 29.
Committee Chairperson George Murugara said that Advocate Apollo Mboya told the Committee did not get the petition documents he requested to prepare himself on time.
Murugara said the committee after consultation had decided to reschedule Cherera hearing to 4pm so that her advocate can prepare himself adequately.
"If time was lost to prepare for Cherera's advocate commensurate time should be allocated therefore the Juliana Cherera hearing has been rescheduled to be held at 4pm today," said Murugara.
Mboya in a letter to the Committee said that by 5pm yesterday (November 28), he had not been furnished with the documents has ordered by the committee.
The advocate told the Committee that he only this morning found out that he had been sent the documents by email at 5:32pm which was past office working hours. They had been waiting for the documents for over five hours.
"It is now manifestly evident that there is elaborate machinations to ensure that we are denied adequate time to prepare a response for our client Juliana Cherera who we could not consult for instructions on the said documents," said Mboya.
The advocate said that in the circumstances and having been denied 10 days' adjournment of the proceedings to facilitate for fair hearing including adequate time and facilities to prepare a response they regret that they are not in a position to participate in the proceedings of the committee.
Mboya asked that the letter and its attachment be placed in the records of proceedings of the committee.
[email protected]
Related Topics