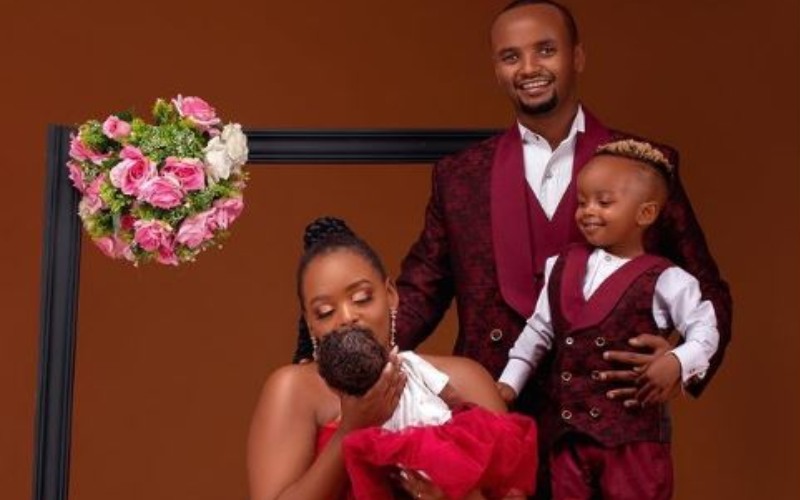 Celebrity couple Milly and Kabi wa Jesus have announced the arrival of their second baby. Sharing the news on social media, the elated couple announced that they have welcomed a baby girl
"Baby is here and we can't hold our joy. We are so happy guys to let you know that our princess is here," they said.
Not withholding his excitement, Kabi wa Jesus expressed gratitude to Milly for her endurance throughout the pregnancy journey and making him a father of two.
"Yaani this girl (Milly) has made me a father to a queen. I can't wait to hug this little girl (his daughter) when she grows up. I can't wait for us to become best friends," Kabi said.
Narrating the experience of their pregnancy journey, Kabi also revealed that the experience was totally different from their first. According to him, Milly was a little more intense when she first experienced her contractions. They however, added that they recorded every step of their journey and will release the videos soon.
Milly confirmed that their daughter arrived a few days ago and is in perfect health.
"Guys, our princess has been here with us for the past few days. We thank God that she is healthy. She is the most beautiful princess ever," she said.
The two however revealed that they have not settled on a name yet.
"We have not yet named our baby, we have a couple of names but we are yet to agree on which one to settle on," they said.
Congratulatory messages have been streaming in from their fans since the announcement;
@jackyvike: "Kongoleni!!I hope mtampea ile jina nili propose #Nakhumicha"
@serahteshna: "Congratulations to you and @millywajesus
@aggie_the_dance_queen: "Congratulations . @nairobihawi ameanza kutafuta mahari
@bencyco: "Congratulations @kabiwajesus more blessings to you and your family @kabiwajesus"
Related Topics