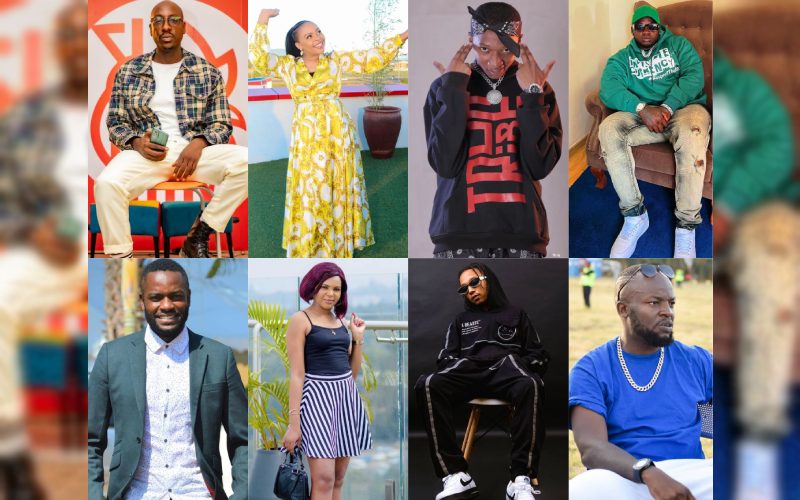 There are cases of famous siblings all over the world pursuing similar careers and excelling. Locally there have been big names too. Some siblings, not only followed similar life paths but are also establishing their names in showbiz, independently from their renowned relatives.
Apart from the regular faces we are used to, these are some of the faces that most do not know are actually related.
Trio Mio and BigTing Ap
Trio Mio became an instant sensation in 2020 after his song, Cheza Kama Wewe hit the socials. While his success has been documented all through, it's his big brother, BigTing AP, who gave him a launching pad. Also known as AP Tyler, he is a musician and a stylist.
Swat and Rix Roro
Swat, aka Mtoto wa Eunice, is one of the members of Ethic Entertainment. Ethic, more often than not was credited as being the godfather of Gengetone. While Ethic cemented their name, one particular face that was in most of their videos is Rix Roro's. Rix is the elder brother to Swat; he is also an independent Gengetone singer with hits such as Wataitana.
Barak Jacuzzi and Nagi Njuguna
While the self-proclaimed lifestyle connoisseur and rapper Barak continues making headlines in Kenya, his big brother is making headlines in Hollywood. Nagi is a Kenyan-American actor popularly known for roles in films like; The 5th Quarter, ATL Homicide Season 2, For My Man, and NCIS: New Orleans as David Anderson.
Khaligraph Jones and Span KOB
Award-winning rapper and Kenyan hard-spitter, Brian Robert Ouko, popularly known as Khaligraph Jones has been flying the Kenyan flag high as far as the music industry is concerned. Rap seems to have wrapped itself around the family since Span KOB is also another feisty rapper. The two have worked together on the collabo Mi Siogopi, which received massive airplay. Their bond is tight in that, in many of Khali's live performances, Span is always around as his hype man.
Size 8 and DJ 7
Gospel singer Size 8 has a younger, little-known sister known as DJ 7. The two have a striking resemblance that one might confuse one for the other.
DJ Kym Nick Dee and DJ Moh
Popular Reggae mix master DJ Moh of Moh Spice Entertainment and his younger brother DJ Kym are both masters when it comes to the wheels of steel. Their sets are a high-energy sweat-inducing mix of all genres although, DJ Moh and his stable Moh Spice deal majorly with reggae music.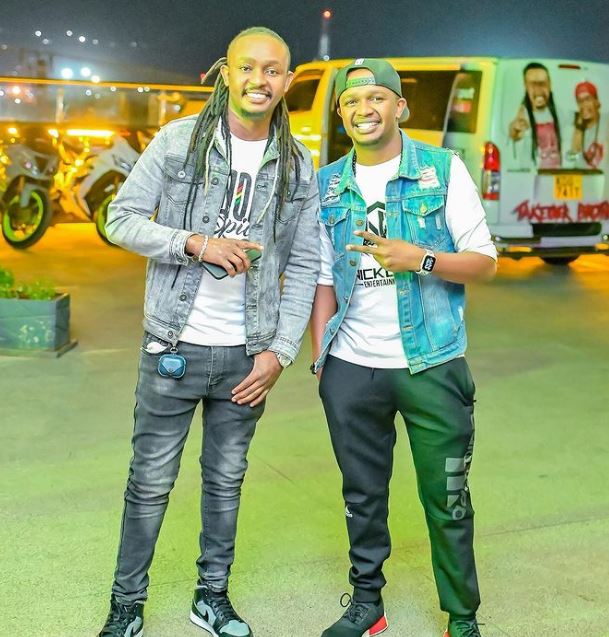 Faith Stan and Forever Young
Faith Momanyi aka Faith Stan is one of the newest kids on the block, but you would not tell this by the way she handles herself. Her music is mature, her style schooled and definitely, her gutsy nature makes her a cut above many newbies in the industry. Her brother on the other hand is a producer and musician as well.
Mikel and Aml Ameen
You may be familiar with legendary grime MC Mikel if you frequently visited Muze Club in Westlands pre-pandemic or maybe you just heard of him for the first time today. The name Ameen holds some weight in international showbiz. His brother, Aml Ameen is a famous British actor known for his roles as Trevor in Kidulthood, Lewis Hardy in the ITV television series The Bill, among others.
Bien-Aimé and Melvin Alusa
Melvin Alusa is a Kenyan actor and commercial model who has been featured in a number of local and international films. He is also the elder brother of musician Bien-Aimé Baraza of Sauti Sol.
Related Topics