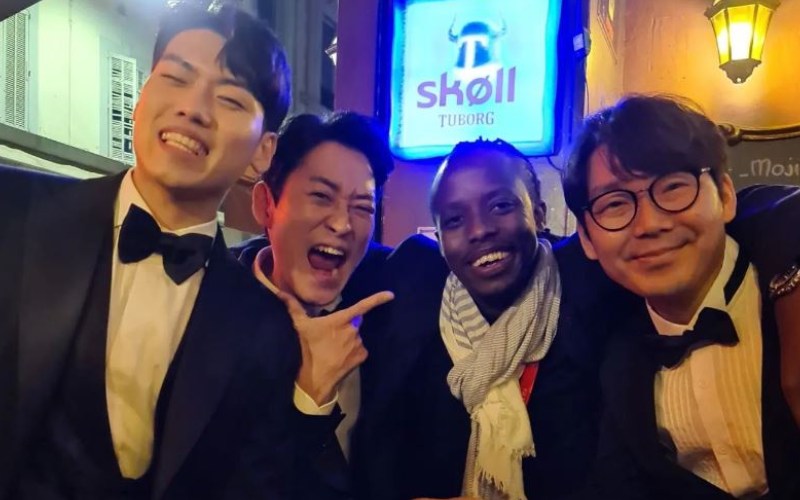 Celebrated Kenyan TV producer and filmmaker Eugene Mbugua was in Cannes, France, this week for the Marché International des Programmes de Télévision (MIPTV) where he got to interact with the top names in film from all over the world.
MIPTV is an annual event that brings together global distributors, producers, buyers and commissioners of drama, doc, kids, factual and formats programming for a curated week of pre-scheduled 1-to-1 business meetings, matchmaking opportunities, exclusive market intelligence, conference sessions and global networking.
While sampling the nightlife in Cannes, Mbugua met some cast members of Netflix hit show Squid Game and he did not hesitate to capture the moment.
"Last night in Cannes with some cast members of the Netflix hit show Squid Game," read the caption.
Squid Game, a nine-part thriller in which cash-strapped contestants play childhood games with deadly consequences in a bid to win 45.6 billion won ($38 million), became a worldwide sensation almost immediately after its launch.
The dystopian drama inspired countless memes, Halloween costumes of the ubiquitous green tracksuits worn by contestants and real-world recreations of the various games.
It also sparked debate in Kenya as the Kenya Film and Classification Board (KFCB) warned parents and guardians over its graphic and violent nature.
"As the statutory agency mandated by statute to regulate film and broadcast content with a view to protecting children from exposure to inappropriate content, the KFCB has resolved to issue an advisory to parents, guardians and caregivers on the Squid Game," said the regulatory body at the time.
Related Topics