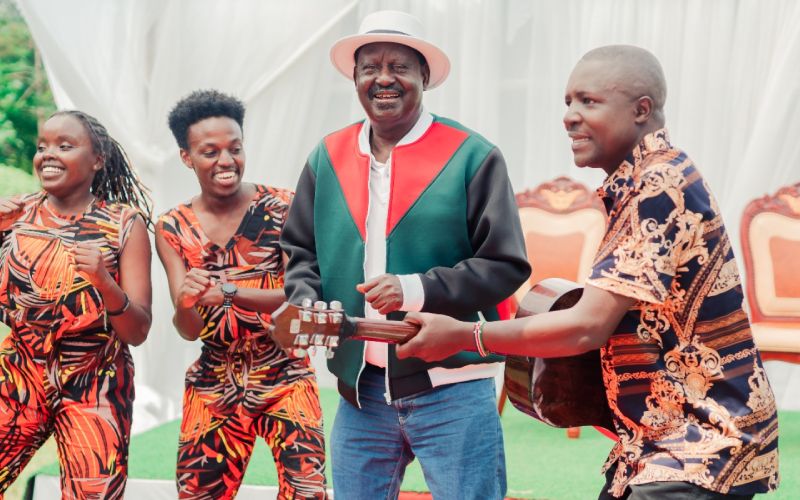 ODM party leader Raila Odinga's official campaign anthem will be released on Friday, February 11, 2022, we can exclusively report.
The song is a rendition of the now popular Lelo ni Lelo by Benga composer, instrumentalist and singer Emmanuel Musindi.
Lelo ni Lelo translates to 'leo ni leo' a Swahili phrase construed to mean 'today is the day'. The song was recorded in Karen and Kawangware.
"Kenya mpya inawezekana (a new Kenya is possible)," Raila says on the refrain as the band energetically echoes "Leo ni Leo".
Raila then ushers the second stanza of the composition with a heavy baritone tone "Lelo leo ni lelo" to which a crowd thunderously responds with animated ululation.
He then belts up, taking the Koffi Olomide mopao (king) demeanor as he commands the leads with insertion, "Na inawezekana".
The song is a fusion of African percussion and traditional dance moves.
Aside from the politics, this is a moneymaker for Musindi; ringtones, endorsements and concerts are sure to follow.
"Baba is now a serious singer. He is an artiste, a creative, a musician. During the Azimio launch in Kasarani (Moi International Sports Centre), a song played that touched his heart. That was Lelo ni Lelo. It caught his spirit and touched his heart as the masses responded jubilantly when he made the grand entry into the stadium where he would finally declare he would be in the presidential race. This is where this all idea came from," said Julius Owino better known as Maji Maji, one half of the Gidi Gidi Maji Maji duo whose Unbwogable political anthem remains the most memorable since that 2002 electioneering season.
Maji Maji is part of the Azimio la Umoja secretariat.
"He (Raila) asked me why I wouldn't do another, since Unbwogable…why not sing…I thought …Baba, a presidential candidate can sing. And with that the idea to record him came about," Maji Maji told The Standard.
The audio was recorded at FP Records in Kawangware.
Asked how he felt working with Raila Odinga, Emmanuel Musindi said: "You can't work on such a big project that is the talk of town and fail to be happy. I am delighted about this," he says careful not to let out the inner details of the deal.
"This is not my first song as much as it is a big hit. Any album I work on turns a big hit. I don't know what God wants to make out of my music talent. Since 1992 when I started singing, things have been looking up for me," said the singer from Kakamega.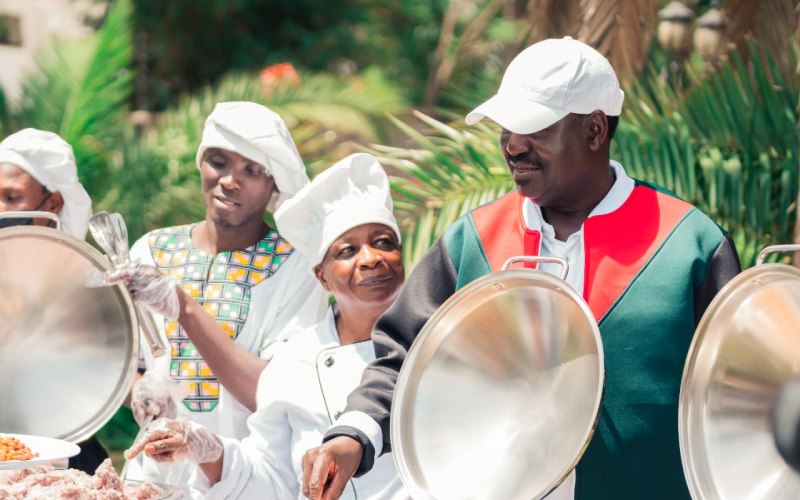 "Lelo ni Lelo is quite a straightforward song. I mean, today has just to be today. It can't be tomorrow. Things must happen, and happen now. It is a rallying call for action in every sphere of life," said Musindi.
Musindi's other hits include Mpishi, Mebo Muruli, Charles Lugano, Ndumbuu, Mukasia, Shitsulenja, Lusimba, Sena Lwanyi, Shienyu ni Shienyu and Lisamula.
Related Topics