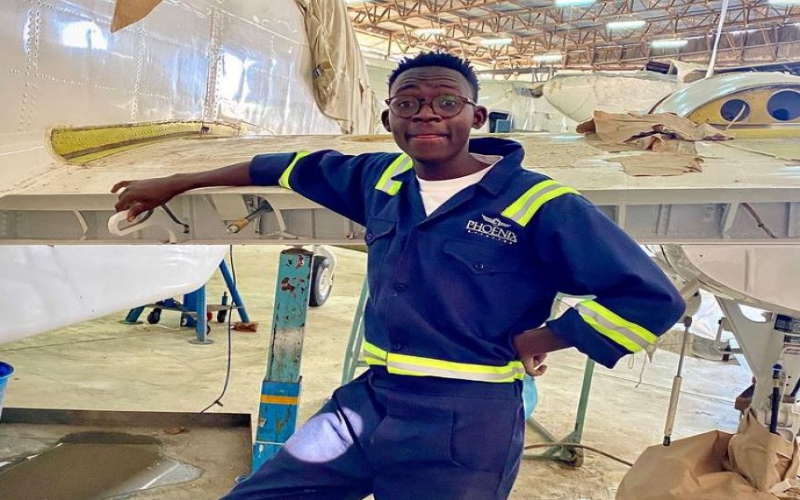 Comedian and radio host MCA Tricky has revealed plans to go back to school to pursue a Master's Degree in Mechatronics Engineering at Jomo Kenyatta University of Agriculture and Technology.
In a video shared on social media, the Milele FM radio presenter stated that many Kenyans consider going back to school to improve the living standards of the country.
"JKUAT Master's Degree loading. 2022, we hit the ground running. Let's now MECHATRONICISE kidogo!!
"People should go to school and improve the living standards of this country, we are tired," he said.
About two years ago, the social media sensation graduated from Kenyatta University (KU) with a degree in Mechanical Engineering.
Celebrating his achievement with netizens, MCA Tricky said that he was ready to practice his craft and serve others.
"I feel enlightened and ready to serve my best to those I inspire," said Tricky.
Passion for Engineering
According to MCA Tricky, Engineering is his passion and he only tried comedy to make ends meet.
Speaking in a previous interview on Jalang'o TV, the media personality revealed that he plans to grow his passion by advancing his studies in the discipline.
"Engineering ni passion, comedy ni hustle…engineering kwangu is part of my life," he said.
Although engineering is his passion, the comedian revealed that after being absorbed into comedy, his grades in school suffered immensely adding that the fame that came with it was partly to blame.
"Niliingia comedy nikiwa second year and I was among the group ya first class students, wacha niingie pale Carnivore…grade ilishuka kutoka 73 points to 59 points. Kiburi, jina, brand…Daro mpaka watu wa school of arts wanakuja school of engineering kukaa class, ma-lecturer wananiita kushika microphone…siconcetrate…ilikuwa noma but nikang'ang'ana.
"For three years nilikuwa stage lakini akili iko mechanics…na nikapiga na kumaliza na second class upper, uliza engineer yeyote second upper inamaanisha nini atakuambia."
After successfully finishing his undergraduate degree and now enrolling for his Master's degree, Tricky is convinced that Mechatronics, is the future of industrialization and would like to be a part of that future.
"Mechatronics is the future of industrialization, unacombine manufacturing ile ya kawaida inatumika Kenya una-advance na kutumia robots and cut costs," he said.
Educated celebrities
Not too long ago a heated debate ensued on social media after Gospel Singer Ringtone Apoko dismissed learned celebrities as broke following an article published by Citizen TV on the most educated celebrities.
According to the Wanadamu crooner, even with degrees, most celebrities are struggling to make ends meet.
"Nameless, Savara, Ndovu, Nadia are most very learned musicians in Kenya with big degrees but @citizentvkenya have refused to tell us that all are broke and struggling. Their education does not bring money. Actually @akotheekenya a school dropout is living large, myself am not in their league. Education isn't everything but discipline, hard work, sacrifice and fearing God. Am the richest musician in East Africa," he said.
Related Topics