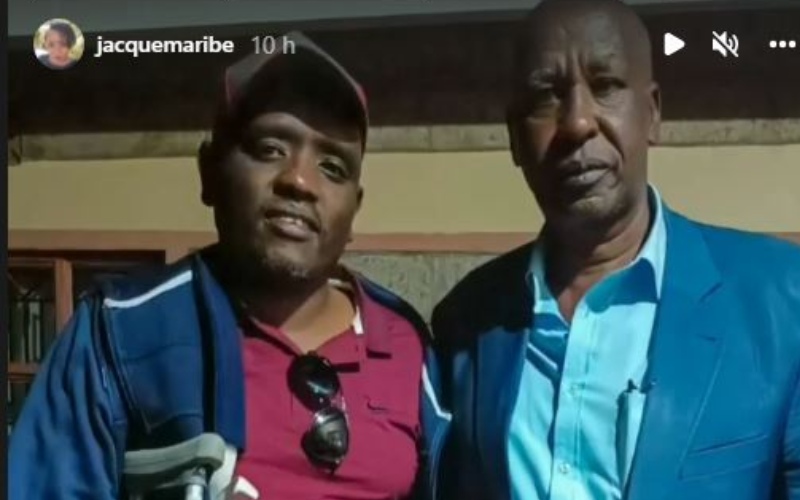 Media personality Jacque Maribe on Thursday shared a photo of her father Maribe Mwangi in the company of Digital Strategist Dennis Itumbi.
Maribe reiterated that Itumbi was part of their family and no matter what people say, they will always have a bond.
"Mr Maribe and his son-in-law Dennis Itumbi. No matter what anyone says we remain family," she wrote.
Speaking on January 1 after being discharged from Nairobi West Hospital, Itumbi said he was out of danger and was responding well to treatment.
"The doctors have said I am out of danger. I will only go back to the hospital for normal clinics," he said, adding that the alleged abduction left him with numerous injuries.
"I suffered triple fractures on the left leg, one fracture on the right leg and an ankle dislocation," he added after leaving hospital.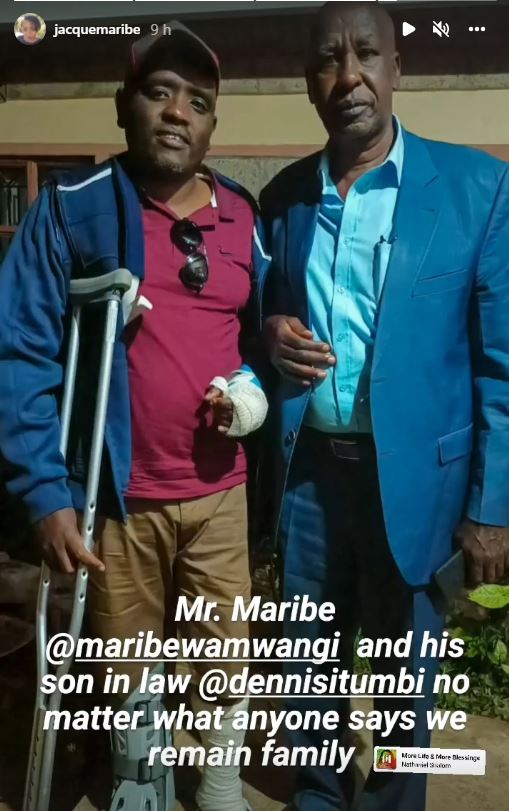 Itumbi also sustained an arm fracture and a dislocated wrist.
"Because of the handcuffs, I also sustained wrist dislocation," said the blogger, an act he believes was meant to silence him and keep him traumatized," he said.
The Reverend's grandson said he had forgiven his abductors, but "will expose them at a later date".
Itumbi and Maribe
In 2015, he captured the imagination of Kenyans when he surprised Maribe with a birthday cake while she was on air. After leaving the station, he took to his social media pages and crafted a romantic birthday message to her.
"Happy Birthday Jacque Maribe. You have proven over the years that you are a true friend. As you toss to old age, I wish you long life, great laughter and countless kisses of deep love from nature and man. I pray for triumph, light and progress in what you do and touch.
"Our friendship has grown closer over the years, our ambitions have been joined into a joint grand dream on some issues and our differences are easily joined by a stitching needle. To a good friend – a prayer for endless blessings, consistent victories and memorable moments every day of the year," a smitten Itumbi penned.
After Maribe was arraigned in court in connection with the murder of businesswoman Monica Kimani, Itumbi rallied everyone behind her.
Theirs has been a strange 'affair' too, one punctuated with awkward moments. At some point, he was rumored to be Maribe's baby daddy before comedian Eric Omondi crept out of the woodwork.
"No poetry today, no review of the year that's been, No promises for the future that is, Just appreciation, heartfelt, for a friendship that stands pure and true. Happy birthday my bestie @dennisitumbi here's to many, many more" Maribe posted in March last year as she wished Itumbi a happy birthday.
Related Topics