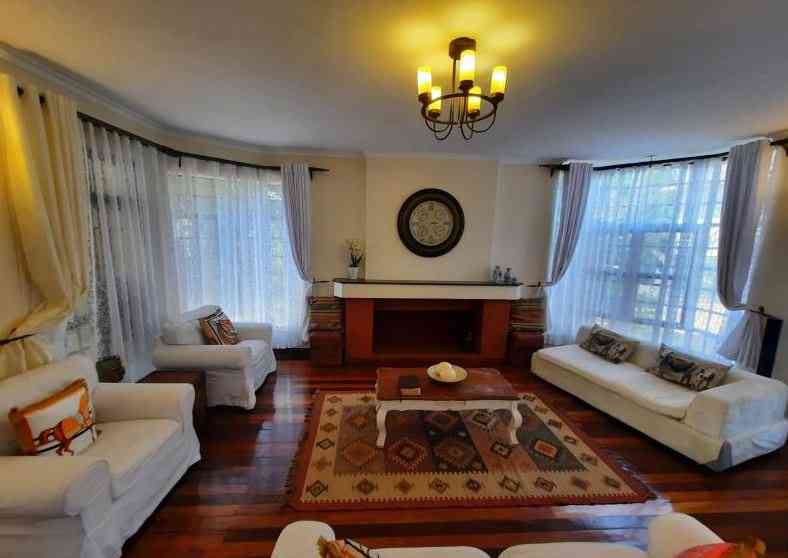 To interview a fellow journalist for the Art of Living in her space was going to be a thrilling experience the crew and I were looking forward to. It couldn't have been better than an exclusive story of Cynthia Nyamai, who had just embarked on a fascinating spiritual journey.
Cynthia Nyamai is a communications company founder and award-winning journalist.
Her townhouse is patched in the suburbs with a distinctive architectural style, delightful gardens, and airtight security in a gated community.
When she ushered us into her five-bedroom townhouse, her living room felt like a haven – relaxed comfort, and heavenly vibes, perhaps due to her prayerful nature.
At the entrance, three ascending white pedestal sculptures adorn it, and the tube rose flowers placed on top smell glorious.
Intricately designed, the living room is sunken with a traditional fireplace. The antique clock tells the different time zones – the nature of her work helps her to manage different clients who live in different countries.
With no clutter in sight, the light palette, luxurious, spacious intriguing space, and calming pallet on the walls are inviting.
Cynthia describes her signature look as modern. She loves white in her home. She says it symbolises purity, spaciousness, and openness.
Wall to wall top to bottom bay windows afford her a charming view over her tranquil courtyard. Her white curtains and sheers are made with the lightest and sheerest of fabric. Like silk, they drape down beautifully.
Determined to succeed in her career, Cynthia has worked with various, and different, presidents and leaders from countries such as Uganda, Tanzania, and Nigeria.
With all the bells and whistles that come with her luxurious space, she says statement pieces and the items in her house tell a story of the deals she closed and bought, and places she has lived in over time. They spark memories of destinations and her achievements.
The mahogany floor is captivating. It is the perfect canvas for her white sink-in sofas and furniture, with patterned and colourful cushions with outstanding leather poofs from France gifted to her by a friend.
The sophisticated light fixtures and shimmering chandelier are Cynthia's reverence for sophistication and everything about her that exquisitely shines through.
Her dining table has an eclectic feel. She painted her wooden slat back dining chairs white. She upholstered the seats with different colourful African fabrics, elevating the dining look. It made them look vibrant and fun.
"My irreducible minimum when I move into a space is security, water, huge windows, and wooden floors. My agent got it right! Most African countries where I have lived do not have wooden floors. I get to enjoy these floors here in Kenya," she says.
The sleek, grand piano below the staircase is a piece of art. She played a few notes, and I embraced every note she played.
Her visitor's room, also a prayer room, is comfortable and eclectic. The huge windows with a perfect view of the garden are relaxing and a pure escape.
A handcrafted mahogany bed, rustic side table, and little knick knacks collected from her travel, bring out her artful signature. They complete the room.
Cynthia is not only a pastor but a prophetess, with a ministry called Push 100.
"I am born again, I love Jesus and my assignment is to work with different nations. My church is on Instagram; that is where I minister. The church is no longer in four walls,'' she says.
Her open kitchen has elegant finish stainless steel appliances, oxtail slab cabinet doors, and granite tops encapsulating style, efficiency, and functionality.
As we ascended upstairs, pretty pictures display her journey in the various countries she has visited, with images of her receiving accolades, and her family displayed meticulously.
Secured with grill doors are more rooms upstairs, including her office. On our way, she shares more family pictures of when she was younger, which are placed on an antique cabinet.
Huge windows and a study shelf open up to a balcony with breathtaking views with an air of quiet and contemplative cool.
When we step outdoors, she proudly sits on a gorgeous hand-crafted Lamu bed where she spends her time with God, soaking in the sun, watching the beautiful sky, and praying. Her home is a sanctuary, an open haven, and a cosy retreat.
I was shocked that she ended up giving up all her furniture when she embraced a new beginning. Are you sentimental about your stuff? Would you give it all away given a chance? Food for thought. [Nailantei Kenga]
Watch this Art of Living show on KTN Home every Sunday at 6:30 pm and watch this episode on KTN Home YouTube channel
Related Topics