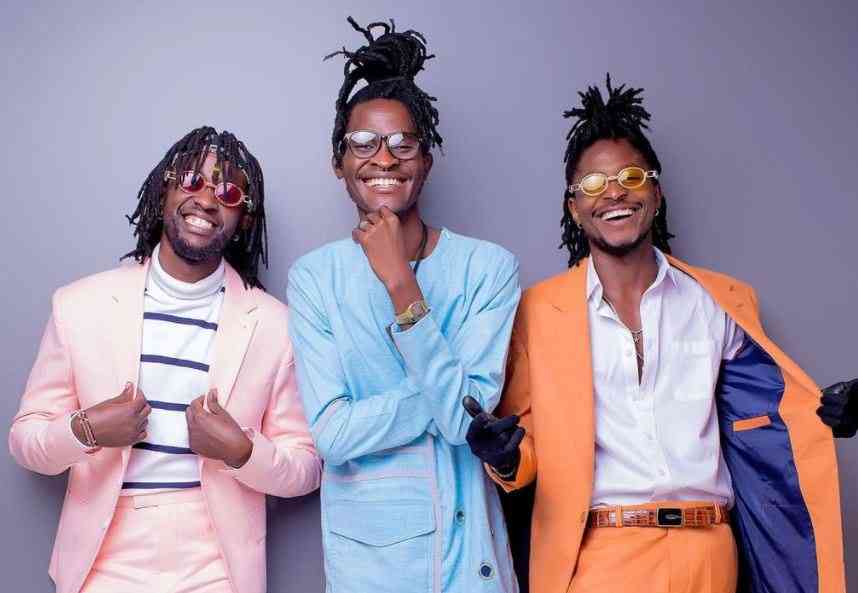 Their sterling hour-plus performance at the Choma na Ngoma at the Carnivore grounds early this month was proof of why they have become a household name.
"We have performed at all the annual gigs since its inception, however, this year is different because it coincides with our 10th anniversary. We are going to give it our all," the boy trio said minutes before taking to the stage.
True to their word, they rocked the show, but besides the effortless musical showcase, lies the countless hours invested in dedication to reach the summit point.
"Ours was a case of blood, sweat and tears," they say.
"The life of a dedicated artiste requires 36 hours a day. It is not easy."
The three met more than a decade ago and shared one dream - to make it in life.
"Then, our group name was The Young Achievers (TYA); ambitious and raring to go," says lead vocalist, Mordecai 'Dex' Mwini.
With little means, they rented a small house in Kayole and split the bills. They would attend practice sessions where they would interact with other city artistes while acting on the side.
Barely making ends meet, the group tried various ventures to get coin. Luckily, all three are talented in illustrative art.
"Skoko and I would idle in our friend's tattoo shop in the capital. We would chat with the clients, illustrate some art and collect the money; the outcome of the image notwithstanding. It was the money for us," says Kenchez.
One day as they walked home from a free concert, police on patrol accosted them.
"They mocked us when they heard our TYA group name and gave us a thorough beating for loitering at night. It must have been the most trying time for us," says group poet, Skoko Abednego.
After giving their career decision deep thought, they agreed to rebrand.
"We were not relenting from doing what we loved from the depths of our hearts, hence the name H_art; love for art, from the heart," says Kenchez Muya.
Having no consistent income, they would often stroll from Kayole to the Kenya National Theatre for rehearsals and back.
With only a single pair of shoes to cover the distance, Mordecai's worn dark blue leather shoes seemed to depict the suffering they underwent in an attempt to better their craft and livelihood.
"One day we joked that only a shoe knows the pain of a hustler. We started rhyming about his shoe drama on a melody and ended up writing the song, Uliza Kiatu."
The song went viral, marking the start of an illustrious musical career.
"Churchill gave us our first television appearance after attending our concert. Unknown to him, we had previously auditioned severally to feature on the Churchill Show as comedians, but were always shown the door," they say.
Having made a mark with Uliza Kiatu, their fanbase grew and so did their knowledge of the music business.
The two vocalists and poet attended a music development programme at Sauti Academy, which they credit for elevating the music further.
"We are indebted to Sauti Academy's director, Natalie, who always encouraged us to push harder. We value her advice."
In 2019, the band released their much-anticipated debut double-release album, Shoekran, and their second, Made in the Streets.
Whilst the former was a compilation album featuring their best hits, Made in the Streets was collaborative and featured household names including Sauti Sol, Victoria Kimani, Seyi Shay, Nyota Ndogo, Cindy Sanyu and their protege, Bensoul.The two were well received, with Made in the Streets registering more than 10 million streams on digital platforms.
Three years later, they released two more albums: Simple Man, which was largely produced by Cedo and their fourth and latest, Party Time.
However, it has not been a rosy ride and the group recounts a moment that nearly sent them on different ways.
"At the onset of our career, we once spent all our six-figure savings on an expensive music video shoot by a renowned visiting videographer only for him to lose the footage on his way back to New York. We did not get a refund and that sent us into a spin. Penniless, we almost gave up on music."
They, however, encouraged each other to steer on.
"Though it was a nasty pill to swallow, we agreed nothing good comes easy and we would rise, dust off and move on."
"It is loyalty and brotherhood for us. We have adapted to live as a family unit with defined responsibilities."
Besides their additional management and legal teams, the trio have shared responsibilities.
"Annually, we hold elections between ourselves and elect a CEO, Financial Director and Operational Director based on everyone's strengths and weaknesses. We work as an institution and all offices are held in high regard."
H_art believes in the depth of the meaning of patience and says that rushed success is often the downfall of artistes.
"You cannot rush anything that is supposed to be yours. Trust the process and associate yourself with people who live and breathe your vibe. It nourishes your potential!"
Related Topics