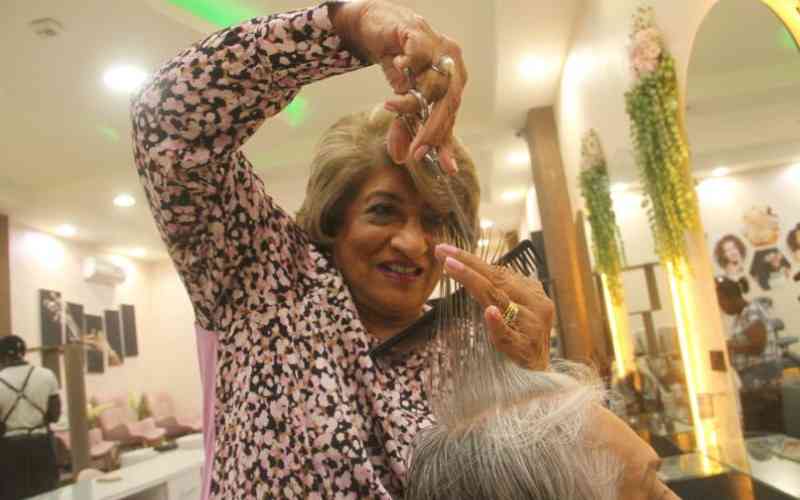 It is a beehive of activity when we meet Nargis Manji at her workplace, Salon Narcisse. Charity Ngatia is getting her nails done – she has been coming to the salon for 30 years. Jyoti Shah, who is getting her hair cut and styled by Manji, has been a client for 20 years.
"I do not even tell her what to do, I just sit down and she does whatever she wants and I love the outcome," says Shah.
Manji started the hair salon on June 10, 1978, and has been actively running it for 44 years since. She is now doing her third generation of clients' hair, having done the parents' hair, and their children's hair, and is now doing the grandchildren's hair. She has about 15 to 20 such clients, who have been there since the first generation in 1978.
She has had well over 30 staff since she began, with her current manager, Jackie, having been with her for 27 years. A lot of the staff have been there for about 24 years.
The salon has been based in Sarit Centre for 28 years, its third home since it was founded.
"My first salon was in a block of flats behind the Oil Libya petrol station. I was there for about six years before I moved to Mpaka Road and I had a salon there up to 1994, then I moved to Sarit Centre," says Manji.
She also changed its name from Trendsetters to Salon Narcisse when she moved to Sarit.
The salon has been her passion, starting from very humble beginnings when her first chair in the salon was from a bashed-up Peugeot car which they would place on a stand.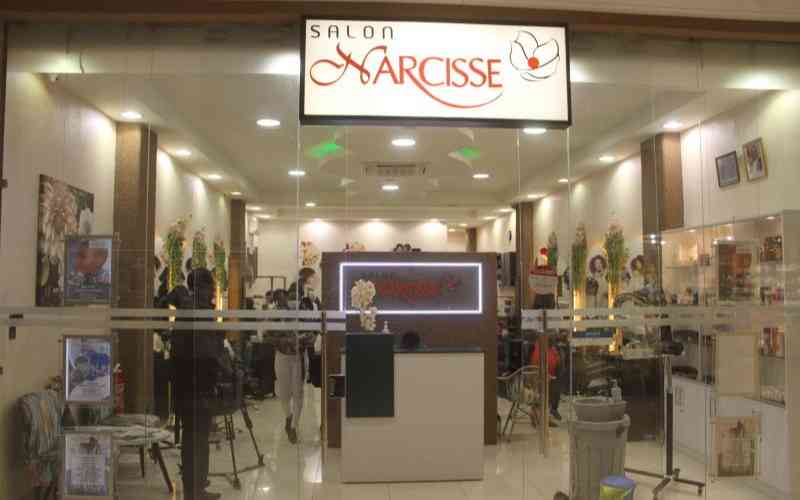 She helped paint the salon, and her husband who was her boyfriend then did the wiring for her together with his father.
Manji started doing hairdressing when she was only 14 years old. "I was doing a friend's hair behind closed curtains and my mum was walking past my friend's house and she said, 'That is Nargis! What is she doing here?' So she watched me doing my friend's hair and that was the beginning of her encouraging me," she says.
It was quite a feat for her mother to encourage her to do hairdressing as Manji says it was looked down upon as a menial job back in the 70s.
"It was for people who were failures. But I was interested in my work and I was still going to school. So every Saturday when my mother was going out she would tell me she would like me to do her hair and makeup. That is how I started learning hair," she says.
At some point, her mother went to the United Kingdom (UK) for cancer treatment, and when she came back, she told Manji that she had gotten her admission to one of the schools in London.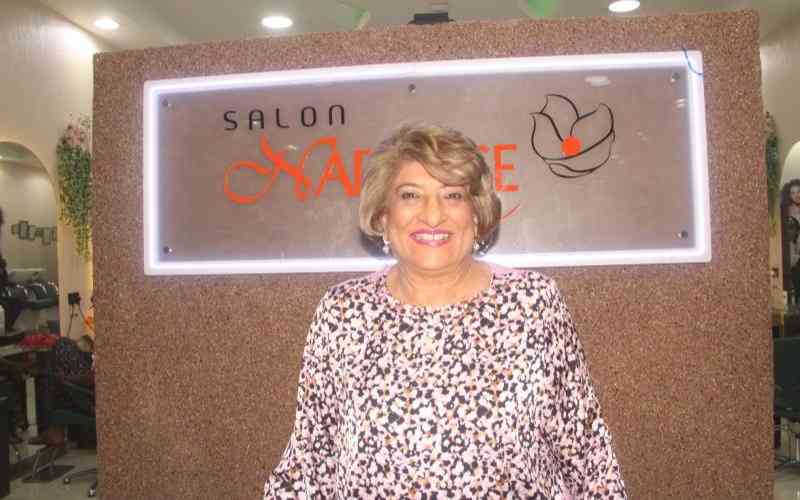 "But the doctors in Mombasa had told me she was not going to last very long so I said I would go later. So I ended up working in Mombasa as a secretary. In the evenings I would come and do hair," she says.
Eventually, she did her training in the UK at the Morris School of Hair Dressing for seven months. She was their best student, and as a gift, they gave her free training in doing blow-dry.
"When I came back from the UK I was the first hairdresser in Nairobi doing blowdry in 1976," she says.
She was doing Caucasian hair and would go back to the UK for training every two years, and then she decided to introduce afro hairdressing to her salon, and went for training at a top afro-hair dressing school in London called Splinters, learning about relaxers, texturizers, braiding, weaving and the like.
Among Manji's clients have been the who's who of society, from Charles Njonjo's daughters to several ambassadors' wives. Some clients of her clients travel from as far as The Democratic Republic of Congo (DRC), Uganda and Tanzania. Her salon has also supported several charities, such as New Life Home and Hope House.
"In my salon, I give back to the community," she says. "I have taken on quite a few students from the streets, paid their fees at Revlon; I have trained them and taken them in my salon to work with me. Some are among my staff here, and have been with me for 15 years and excelled. I do not worry at all when they are working on my clients."
Manji says that the salon has lasted for over 44 years because of how passionate she is about it.
"After my family, my salon is my passion. I cannot think of a time, except when I have travelled and when I was sick after my knee operation that I have stayed home for a while," she says.
"Even then, my knee operation was on February 1 and by March 1 I was working here. I came on crutches. I would cut my clients' hair while seated and then when I got to the top of the client's head I would stand up and continue the work. I cannot picture myself sitting at home doing nothing."
On a good day, she can do hair on about 8 to 10 clients, and the salon easily sees about 15 to 20 clients a day. She currently has 22 staff.
Having operated a salon for so long, she has seen many trends come and go.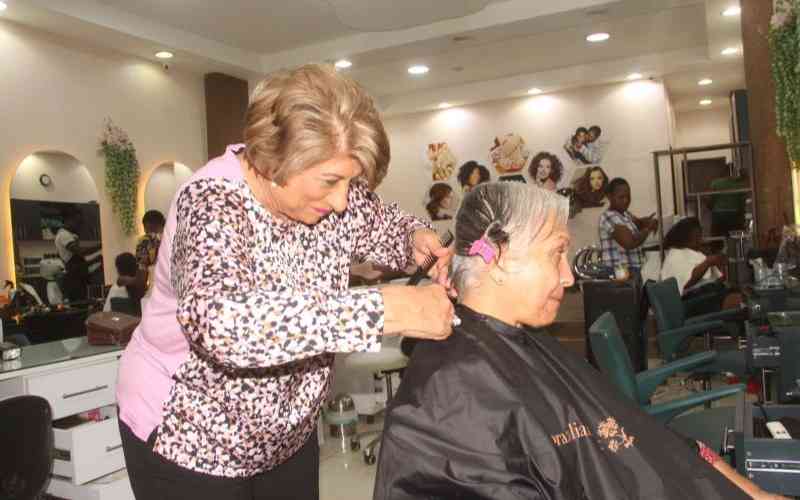 "At one time, we would do a lot of perms. For Afro hair, perm means straightening the hair, but with Caucasian hair, it means putting curls in it. People are going for natural hair more now. A lot of my afro clients want wash-and-wear hairstyles now," she says.
"Products have also changed. At one time when we were doing perms, it used to take four to five hours. Now it's done within one and a half hours. Initially, some brands used to worry us because of damaging clients' hair but now we can do it blindfolded. The products have got more conditioning in them where they do not damage the hair."
She adds that people want more casual hairstyles nowadays. They have changed completely from very dressed-up looks to very casual looks.
Related Topics